Today's modern workplace is moving forward into Industry 4.0. Cutting-edge tech is being pushed to its limits by introducing complex AI, automation, and algorithms into job roles and daily lives. Buzzwords like "digital transformation" dominate business agendas, and companies recognize the challenges and opportunities of ever-changing digitization.
In this scenario, it's no surprise that 80% of CEOs cite the need for new skills as their most significant business challenge (especially considering that 85% of the jobs that will exist in a decade probably don't exist yet). Learning and development programs are an effective strategy to help equip employees with the right tools to meet new digital processes and technologies in the workplace.
With 94% of employees reporting that they'd stay at their current company longer if their employer invested in their progression, learning and development strategies are receiving support from both sides.
In this post, we'll look at what learning and development mean in the modern workplace, how it can benefit your business, and the eight sections every learning and development strategy must have.
What is a Learning and Development Strategy?
A learning and development strategy outlines the processes of upskilling or re-skilling employees to develop their capabilities, skills, and confidence. The goal of learning and development (L&D) is to ensure that employees have the right knowledge and skills to succeed in their roles and contribute to the company's wider business performance.
Every employee can be a learner, from a junior professional to a senior manager. Although learning and development strategies are designed to help employees grow professionally, boost productivity, and prepare for workplace advancements, employers benefit too. Better productivity means more engaged employees, higher retention, and increased morale, contributing to overall business success.
Who is responsible for learning and development processes depends on the size and structure of the organization, but L&D strategies usually involve collaboration between different teams. HR, line managers, senior management, and learners can all participate in planning learning and development strategies that align with business objectives and individual goals.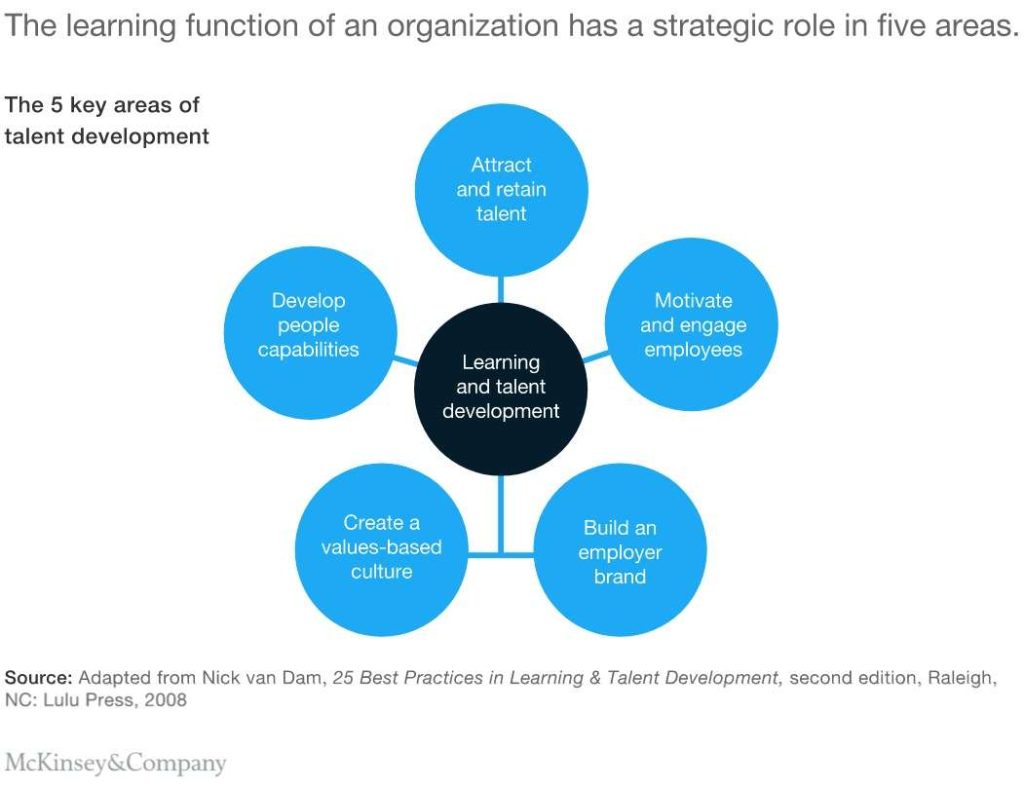 Benefits of a Learning and Development Strategy
Learning and development programs help close any skills gaps your employees may have, which is especially important as workforces further digitize. Mapping out a clear, concise, well-defined learning strategy is a great way to ensure that you're getting more buy-in from your employees and that they are hitting their learning objectives.
Here are 4 Benefits of Effective L&D Strategies:
1. Strategic Alignment 
Strategic alignment For employers, having a clear strategy helps ensure that learning and development initiatives and the teams who run them coordinate to support overall business goals and better performance.
2. Success Measurement 
A learning and development strategy helps you plan how to measure the initiatives' success. For example, whether you will monitor attendance, completion rates, or employee retention to determine if a program is successful. The defining of goals also comes under the umbrella of measurement, and a clear strategy can help learners and leaders recognize their priority business goals and how to meet them.
3. Retaining Talent 
Hiring a new employee can be as expensive as 6-9 months of their salary. Instead, a learning and development strategy can help you develop and retain your existing staff to help maintain a lower turnover rate. Employee morale and motivation are closely linked with higher productivity. L&D strategies are a great way to engage employees and show that you care about them.
4. Brand and Culture 
Companies that invest in learning and development strategies attract new talent and job seekers. They also contribute to a positive brand image and help develop a culture of support and inclusion.
Here are 3 Primary Learning and Development Strategies
A popular guideline for learning and development is the 70:20:10 method using the three primary L&D strategies: 70% on-the-job learning, 20% collaborative learning, and 10% formal training. Here's what these three approaches would look like in practice:
1. On-the-job Learning (70%)
On-the-job learning helps employees to upskill in the necessary areas of their job by taking a hands-on approach using workplace resources and tools. This strategy could include training or mentoring from colleagues, reviewing workplace documents, software skills training, and more.
2. Collaborative Learning (20%)
Collaborative learning encourages cross-team interaction, open-mindedness, relationship building, and critical thinking. In a group environment, learners can contribute and collaborate on various team activities. Examples include having a buddy system, job-shadowing, mentoring opportunities, and multi-department training sessions.
3. Formal Training (10%)
By implementing a range of formal training initiatives into your learning and development strategy, you can help employees learn skills they can apply to on-the-job training. Formal training can include online courses, e-learning, seminars, certifications, or a learning platform. It is usually measured by tests, completion rate, or ongoing training.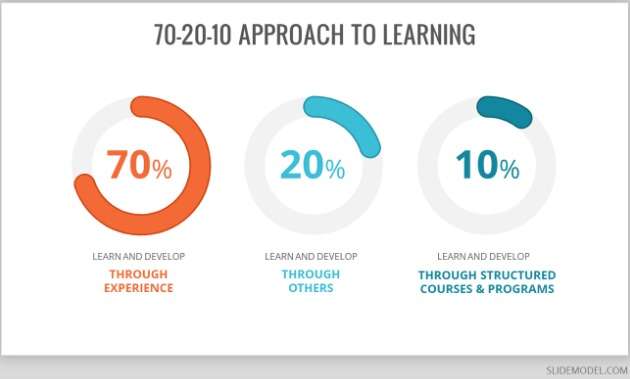 8 Sections Every Learning and Development Strategy Must Have
To help you feel confident that your learning and development approach is suitable for your workforce in 2022 and beyond, here are eight key sections that all robust L&D strategies must have.
1. Clear Assessment
Taking a systemic and thorough approach to skills and capabilities assessment is crucial to a great learning and development strategy. Effective assessment often occurs before and after the learning, and both parties—employer and employee—can conduct it.
Learners could complete self-assessment or satisfaction surveys to reflect on their capabilities, skills gaps, and missing knowledge. The surveys conducted by organizations are likely to be externally focused, such as researching what skills and capabilities your competition has, whether market advancements could create skills gaps, and how you can address this.
2. Employee Engagement
36% of leaders said that increasing employee engagement in learning was one of the biggest L&D challenges they face. Reward and recognition initiatives, such as promotions, can be used to help employees see the long-term value of their learning and development.
Learners are not going to be motivated by a program that they don't understand or feel is not relevant. Successful learning and development strategies encourage open and honest communication about your organization's motivations for kickstarting a program in the first place and what you envision the learning to look like. Knowing the "Why" behind your learning and development strategy will help your learners feel more invested in it.
Using engaging learning methods, such as video walkthroughs and training videos, greatly helps employees retain information better while contributing to a positive company culture.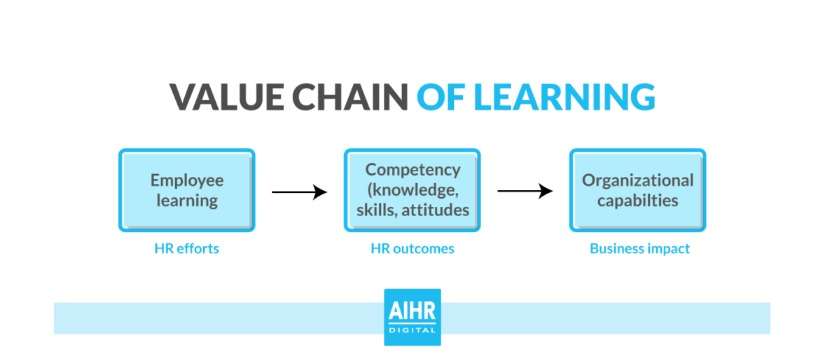 3. Effective Personalization
In learning and development there's no one-size-fits-all approach, and no two learners in your organization will be the same. 18% of organizations find it challenging to understand learner needs. The secret to a strong L&D strategy is to get to the bottom of this and consider employees' individual roles.
Whether that's employees' seniority level, skillset, progression goals, or job requirements, learning and development can be personalized to suit their objectives. With the rise of learning platforms, it's easier than ever to deliver personalized training materials. E-learning is also a great way to incorporate personalization, especially considering that 74% of learners want to train at their own pace.
4. Business-Focused
Only 40% of companies say that their learning strategy is aligned with their business goals. This may be because of outdated approaches or a lack of alignment with modern challenges, such as digital transformation.
Business goals are set with the future in mind, and a great learning and development strategy should be too. It helps organizations remain agile and relevant in the face of future challenges. With digital transformation proving to be one of the most timely and demanding challenges yet, a viable learning and development strategy should equip learners with the skills and knowledge that they need to contribute to support the overall corporate plan.
Organizations with a strong learning culture are 58% more likely to have the skills to meet future demand. Aligning your L&D strategy with your broader goals is the best way to maintain and future-proof your competitive advantage.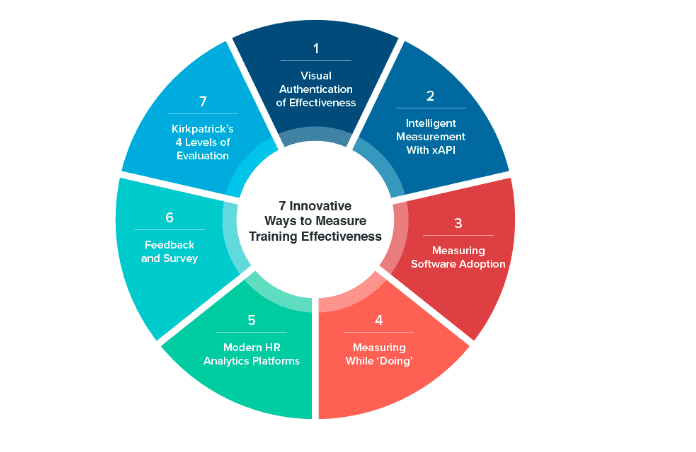 5. Measurable Outcomes
People forget over 50% of what they have learned in only a matter of days. How can you be confident that your learning and development strategy is actually working or that you're generating good ROI?
The answer lies in measuring the learning outcomes. Over the past few years, there's been a 59% increase in the number of learning and development leaders who agree that it's possible to demonstrate the business impact of learning. By taking a digital-first approach, businesses can use skills mapping tools, advanced data collection, and online learning platforms to understand the effectiveness of the learning. Great learning and development strategies use these findings to adapt accordingly and stay agile.
6. Executive Support
Learning and development is a fairly new workplace perk, but the pandemic has accelerated it into a vital business tool. 64% of leaders agree that L&D is no longer just nice to have in the post-pandemic workplace—it's now a must-have.
Learning and development have evolved to go deeper than just filling skills gaps. It has become an essential staple in helping organizations build a sustainable learning culture, which positively impacts innovation, employee engagement, retention, and decision-making.
C-suite leaders are showing an interest in learning and development by recognizing its value as a key strategic tool. Among the highest performing companies, 73% of employees update their skills every six months, showing that their organizational success lies in their approach to learning.
7. Easy-to-use UX
The most effective learning and development strategies ensure that their UX of choice is easy to use, intuitive, consistent, and accessible for learners. Whether your budget is tight or plentiful, the rise of digital platforms means there are many solutions to help you meet your learning and development needs.
For example, Hour One's AI-video generator allows you to create presenter-led video content at scale within minutes. You could convert your e-learning text into engaging and personalized videos led by virtual teachers, which is ideal for self-directed learning modules. If this approach to learning is successful, Hour One helps you scale up without investing in additional tools and platforms—your simple text can be converted into production-quality content automatically, as often as you like.
8. Use Video for Learning and Development
Over 70% of people prefer to learn by watching a video, and viewers retain up to 95% of a message when watching it rather than reading. A clear, concise, and well-presented video can be a highly effective learning strategy and help keep engagement high even during digital or distance learning.
Video is also a much more accessible training tool. Learners can access video content at their own pace and watch it as often as they need to. Additionally, video ensures that every employee receives consistent training, since each watches the same video.
Hour One's Reals offers AI-powered virtual interaction using a digitally-generated, hyper-realistic presenter. It is easier for viewers to build a rapport with the presenter and stay engaged throughout the video's runtime. Rather than inviting your leaders, learning and development staff, or mentorship team to speak on camera, why not ask them to write down their knowledge and use simple AI to construct the video for you? The best part is that it's affordable and instantly scalable at the touch of a button.
Develop an Effective Learning and Development Strategy with Hour One
The modern workplace is ever-changing with no signs of slowing down. It's estimated that 97 million new jobs will be created in the next three years alone. If businesses want to stay relevant and innovative, they must equip their employees with the right tools, skills, and knowledge to take on a digital future. Using the latest in powerful yet easy-to-use tech is an ideal way to accomplish this goal.
Start your learning and development journey today with Hour One's presenter-led video creation solution. From e-learning to employee onboarding, Hour One's software has many use cases for HR professionals, especially within the learning and development domain. With affordable, pro-quality video at the core of your L&D strategy, you're assured of better learning retention and a higher ROI.
Simply select your template, choose a presenter, and add your text—and with the press of a button, you'll get an engaging and professional learning and development video without the need for a full production studio. Get started and create your first Reals video for free. Tossing new hires into the deep end and hoping they can figure out how to swim is not how you get happy, productive, high-performing employees who want to stick around. Nearly one out of four new hires leave within their first year, but great onboarding makes employees 69% more likely to stay with an organization for at least three years.
An effective onboarding program reduces turnover, boosts the productivity of your workforce, and strengthens your company culture. Onboarding gives you a chance to communicate clear expectations to your new hires and gives them the knowledge and resources they need to start delivering right away.