Top 7 Employee Onboarding Software Solutions
It's a shock when you hire the perfect candidate, the one who aced the interview ticks off every qualification, and when they start working, they just don't cut it. There are many reasons why sudden reversals like this happen, but a new hire often can't perform up to their potential because they didn't get the onboarding they needed.
A great onboarding process helps employees understand the company culture and your expectations for them. It gives them the confidence and initiative that positions them for a successful, rewarding career.
How important is a great onboarding experience? Studies show it can improve a new employee's productivity by as much as 70%. The problem for mid-size and larger companies is that manual onboarding processes are hard to scale.
Fortunately, these issues can be solved by various Human Resources software that includes features designed to create effective onboarding experiences. This post will look at the importance of employee onboarding and seven onboarding software solutions to set your employees up to succeed.
Why is Successful Employee Onboarding so Important?
Tossing new hires into the deep end and hoping they can figure out how to swim is not how you get happy, productive, high-performing employees who want to stick around. Nearly one out of four new hires leave within their first year, but great onboarding makes employees 69% more likely to stay with an organization for at least three years.
An effective onboarding program reduces turnover, boosts the productivity of your workforce, and strengthens your company culture. Onboarding gives you a chance to communicate clear expectations to your new hires and gives them the knowledge and resources they need to start delivering right away.
What is Employee Onboarding Software?
Employee onboarding software is designed to track, organize, and deliver the process and resources that help new hires fit into your organization and become productive. Onboarding software is often included as part of a larger HR software package, which can include other features like recruiting, payroll, and benefits management.
Key features of good onboarding software include:
A portal to welcome new hires and show them how to access the resources they need
Task management features that keep them focused and productive as they grow into their role
A library of video content and other media to familiarize them with their new workplace's people, processes, and culture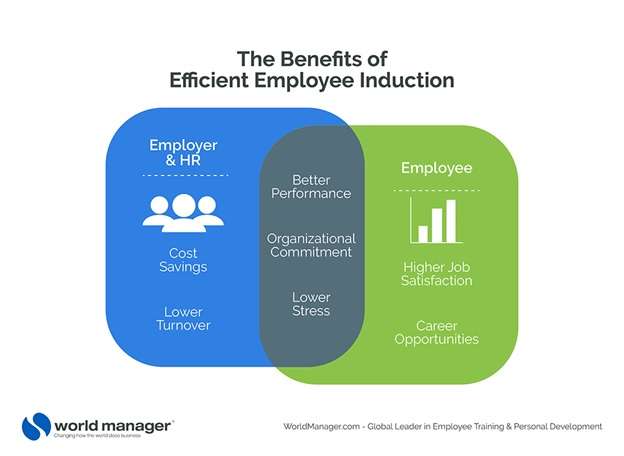 Benefits of Employee Onboarding Software
One of the most significant benefits of using a software solution for onboarding is automating the process. This may not seem like a big deal if you're running a small operation that hires very infrequently. But as soon as your company starts growing and increasing staffing regularly, it can become challenging for HR to keep up with the paperwork, presentations, and orientation processes that make up a successful onboarding.
Software solutions ensure that every new hire goes through the same consistent onboarding experience, providing accountability for both employees and their managers. It also facilitates onboarding for remote employees, saving you time and travel costs. Some solutions can even help you generate and present onboarding content, which is especially beneficial for companies that need to deliver a broad array of training videos and similar media.
Key Criteria for the Best Onboarding Software
Every organization will have unique onboarding needs based on its size, industry, the regulatory environment they're operating under, and many other factors.
However, there are a few key criteria that most great onboarding solutions will have in common:
Easy-to-use interfaces for both employees and management
Integrations with your other essential software tools
Ways to organize, manage, and present an extensive media library
A fun, engaging, and well-paced user experience
Fair and transparent pricing that ensures you're getting a positive ROI
Here are seven of the best employee onboarding software solutions on the market today.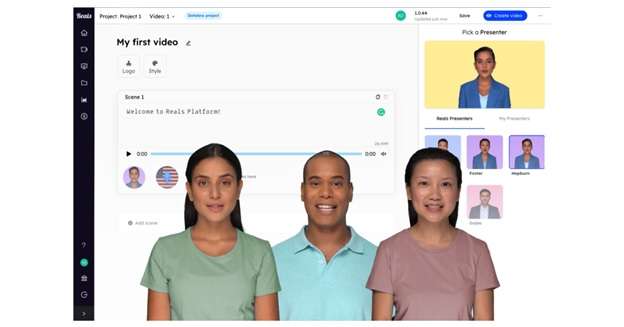 Hour One is an AI video generator platform that instantly creates videos with photorealistic virtual presenters out of any script or text document. HR often needs to deliver a wide range of informational content in an engaging format like video. However, developing a deep media library with real-life talent can get very expensive and time-consuming. AI presenters provide an alternative that is just as relatable at a fraction of the cost and production time.
Pros: AI Video generators like Hour One dramatically reduce the time and expense involved in video production at any scale. It quickly and automatically turns your existing material—PDFs, slideshows, web pages—into a rich, dynamic video presentation. Video has a 95% information retention rate compared to 10% for written text, making video a crucial element in any effective onboarding process.
Cons: Hour One isn't a traditional all-in-one HR software solution, but it adds so much value to your onboarding process that adding it to your onboarding tech stack is a great investment.
Pricing: By inquiry.
Reviewer says: "By removing the need for film crews, studio technicians, and—for all but a few minutes—actors, Hour One's technology is a boon to companies wanting to scale up video production."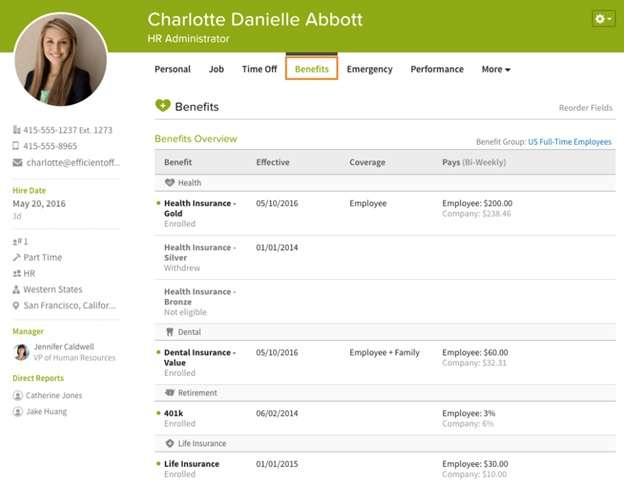 Well-established in the HR software market, this cloud-based solution is designed to support onboarding, performance management, time tracking, and other necessary HR functions. It has a feedback feature to help you refine and improve your processes and an open API to allow for customization.
Pros: BambooHR is user-friendly and easily adapts to your specific business needs.
Cons: It's missing some scheduling features, and users occasionally have issues with reporting and data management.
Pricing: There's a free trial and tiered pricing so customers can find a package that fits their needs.
Reviewer says: "As stated, the BambooHR system is a recruiter's dream and makes the talent acquisition process easier for those businesses that are only using the job boards to get applicants. Just don't expect much more after that."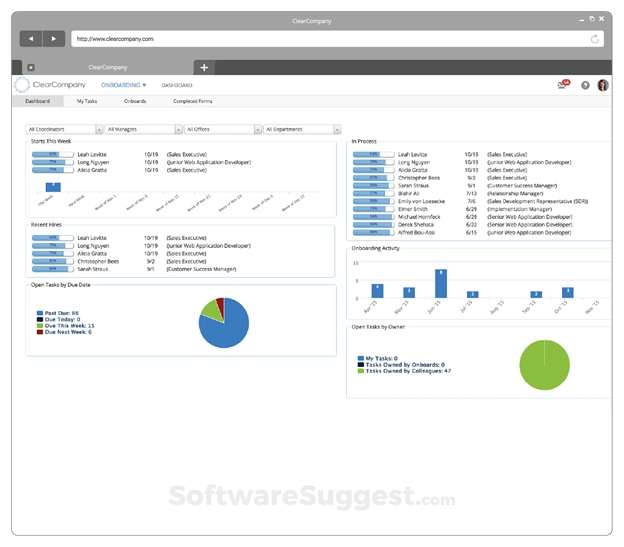 Billed as a talent management system, ClearCompany focuses on hiring, retaining, and engaging top employees—but it also includes useful onboarding features. This solution is built to scale to whatever size you need, making it a good option if you need to deliver onboarding presentations in bulk.
Pros: There are many customization options and the customer service team is reportedly helpful.
Cons: Reporting features are limited, and the user interface can be difficult to navigate.
Pricing: By request.
Reviewer says: "ClearCompany has a robust process for paperwork. It is easy, quick, and organized. It is less helpful for recruiting."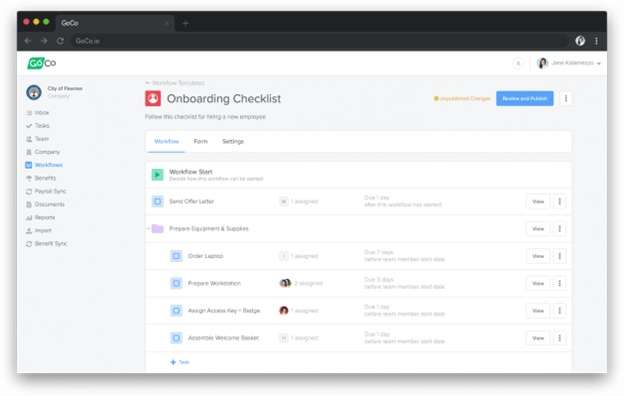 One of the more affordable solutions on this list, GoCo offers a cloud-based, streamlined HR package that emphasizes document management and compliance while automating your onboarding processes. Features include payroll management, benefits enrollment, and employee self-service tools.
Pros: GoCo is easy to navigate and reasonably priced.
Cons: Some users feel that GoCo needs more customization options, and report that the software runs slowly at times.
Pricing: Starts at $5 per employee per month.
Reviewer says: "The system is evolving. This is a great thing but, at times, can be challenging. While the team at GoCo is very responsive to our improvement suggestions, the system does have limitations that require us to create a workaround."
Gusto is an all-in-one solution for small businesses that includes onboarding features as part of its overall HR package, alongside support for hiring, payroll, insurance, and document management. The onboarding component has a helpful checklist for tracking required forms and tasks.
Pros: The payroll and benefits features offer a good value for small to medium-sized organizations.
Cons: Customer support is sometimes lacking, and the setup and user interface can be challenging.
Pricing: Ranges from $39 to $149 per month, plus $6 to $12 per person.
Reviewer says: "It's great for payroll. We don't pay for the leave management or other items because it is too expensive, but the payroll features are great."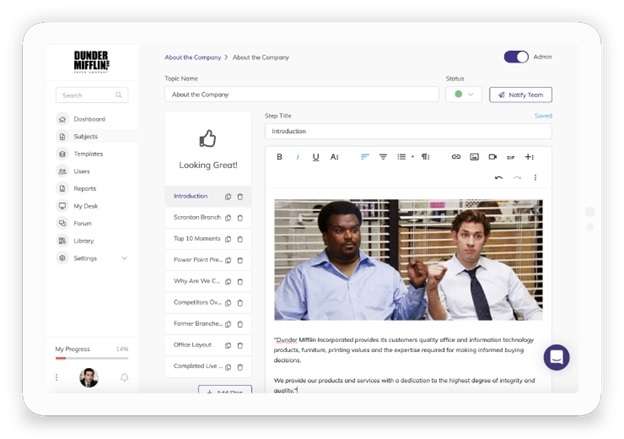 Built for knowledge management and training, Trainual readily lends itself to supporting onboarding processes. This solution lets you create a "playbook" of documents, policies, and best practices that you can easily share with your new hires.
Pros: Trainual includes helpful templates and useful tracking features that support accountability.
Cons: There aren't enough features for tagging and content editing.
Pricing: Plans run from $49 to $199 per month, with extra charges for additional users. A free trial version is available.
Reviewer says: "Whatever I find challenging, I share with the team, and they'll clue me into the tweaks they have or the product roadmap they're using to anticipate client needs."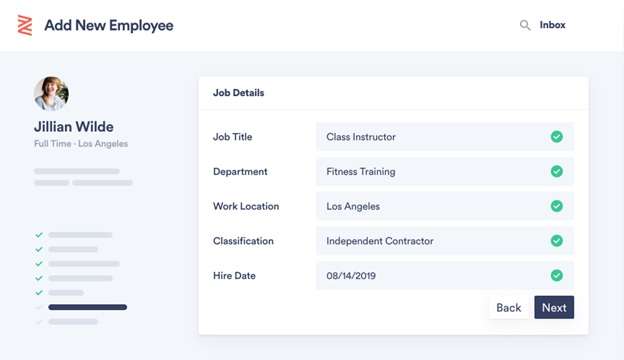 Zenefits is an all-in-one Human Capital Management platform with self-service onboarding tools. It manages payroll and benefits and includes a compliance calendar to help keep you on the good side of your local regulators.
Pros: Zenefits is easy to use and offers lots of integration options.
Cons: There aren't as many customization options as other solutions, and not every payroll tax situation is supported.
Pricing: Fees are $8 to $21 per month/per employee, depending on the plan.
Reviewer says: "Zenefits started as a benefits company with an HR platform but has pivoted to providing payroll as its core business with the other add-ons. There is still some room for improvement on the payroll side and how to handle the customer service side of this."
Get on Board with the Right Solution
Onboarding is a process that communicates your mission and values to new hires, invites them to join your company culture, and shows them how to become an integral, high-performing part of the team. While no two companies have the same onboarding needs, every company can benefit from high-quality video content and the ability to produce engaging videos at scale.
Hour One's AI video generator solves one of onboarding's most challenging problems by making it easy to produce as much video as required, and for all kinds of different hiring scenarios, with nothing more than your existing data resources. To see how a versatile and diverse team of hyperreal presenters could help shepherd your new hires through a successful onboarding process, take a look at what Hour One can deliver.