The goal of any successful organization is to have a roster of high-performing employees. The best way to accomplish this is to ensure they get all the education and instruction they need to succeed in their roles. Learning starts when they get hired and should continue throughout their career. Corporate training programs can be essential to this process, but many employees struggle to engage with traditional training media's format and presentation style.
Fortunately, new educational methods have emerged to meet the needs of today's learners. One of the most effective is microlearning, designed to deliver knowledge via short, tightly focused bursts of content. Microlearning can accelerate training by as much as 300%, whether onboarding new hires or deepening the skillsets of long-term employees.
For microlearning to be successful, the content and delivery must play to the format's strengths. The content should be designed to be quickly assimilated while optimized for the audience's preferred devices and operating systems. This post will survey eight of the best software platforms for producing and distributing microlearning programs.
What is Microlearning?
Microlearning is an online learning approach based on delivering educational content in a concise format that can be completed within about two to ten minutes. The theory behind microlearning comes from the "forgetting curve" hypothesis developed by the German psychologist Hermann Ebbinghaus. He believed that when we learn a large amount of new information all at once, we soon forget most of it. By breaking down information into smaller chunks that are easier to digest, microlearning helps us retain more of it.
A key advantage of current microlearning models is that they harmonize with how people naturally consume online content. Microlearning solutions use video, gamification, and mobile optimization to make their programs as accessible and user-friendly as possible. These features can make microlearning convenient and fun—another factor that helps with knowledge retention.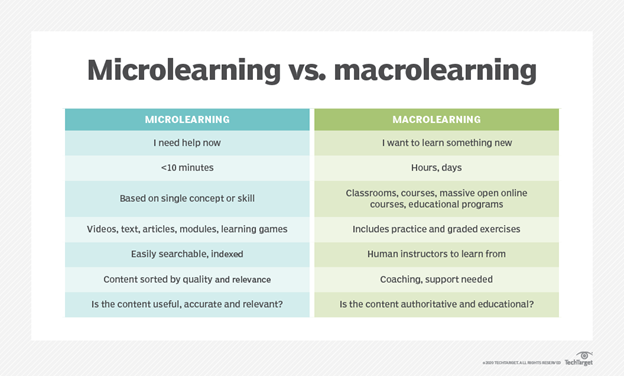 Why the Time for Microlearning is Now
In many organizations, the typical state of an average employee is busy and pressed for time. These employees want to learn new skills, keep up with the state of the industry, and develop their careers. But they don't have the time and the attention span for boring lectures, long-winded content, or slow-paced educational materials.
Microlearning is having its moment because it's easier to engage with and leads to better educational outcomes. According to one study, microlearning is 17% more effective than full-length coursework. When surveyed, 58% of workers preferred microlearning over traditional formats.
Employees like microlearning because it's convenient, allows them to learn at their own pace, and usually includes features that remind them of video games and social media. Microlearning can be more affordable for employers than longer program formats, leading to higher ROI and improved knowledge retention.
What are Microlearning Platforms?
Microlearning platforms are software solutions that help you publish short-form educational content. They are distinct from learning management systems (LMS) because they focus on content creation and distribution, not the administration of multiple learning and development programs.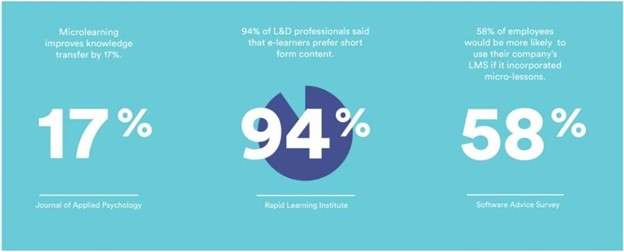 Features of Great Microlearning Platforms
Dedicated microlearning platforms may include features such as video production tools, quizzes, gamification elements, and progress assessments.
The features you'll want in a microlearning platform will depend on your training and instructional needs.
Here are a few key features found on most great microlearning platforms:
Mobile Optimization – For microlearning to be convenient, it needs to work flawlessly on the devices your employees are most comfortable using.
Templates – Any features that can speed up the content creation process will save you time and money.
Inline Media – The ability to embed video and other dynamic media keeps your content relatable and helps bring complex concepts to life.
Games, Leaderboards, Quizzes, and Other Interactive Features – When you can gamify learning to make it a fun and challenging experience, employees are more likely to stay engaged.
A great microlearning platform will make revising or editing your training programs easy and affordable. The compartmentalized nature of microlearning allows for incredible agility when you need to update a segment or add new material.
Top 8 Microlearning Platforms for 2023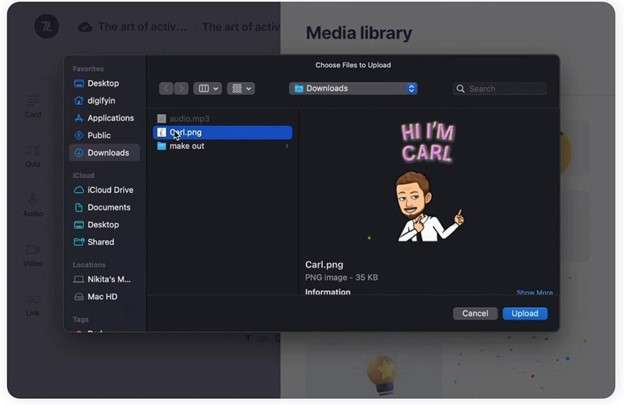 This platform makes it quick and painless to create microlearning courses. A winner of multiple G2 Leader awards, 7taps provides many user-friendly content creation resources along with deployment and tracking tools.
Pros: The design tools allow anyone to create courses within minutes.
Cons: It can be expensive and doesn't include all the customization features you might want.
Pricing: The Starter plan is $20 per month, the Pro plan is $84, and the Enterprise plan is $496. There's also a free version.
Reviewer Says: "While I completely understand it, the thing that I dislike is the cost to create multiple microlearning experiences. This would be a valuable tool for educators, but the cost is prohibitive."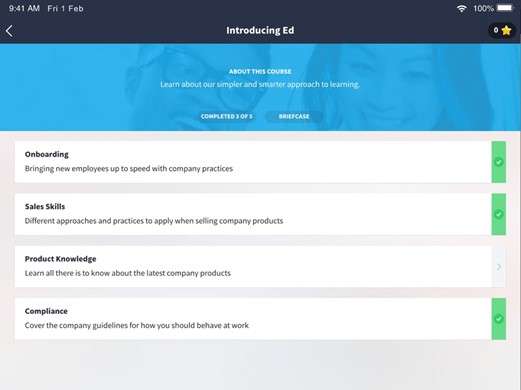 EdApp wears many hats: it's a mobile LMS, content creation tool, and microlearning delivery app. It even offers a library of standard courses you can adapt and customize. Though intended as an all-in-one platform, it offers many good microlearning features, such as spaced repetition and gamification.
Pros: EdApp covers a significant range of functions for a reasonable price.
Cons: You may encounter some bugs in the user interface.
Pricing: The monthly per-user price starts at $1.95 and goes up to $2.95 for the EdApp Plus plan. They also offer a free version.
Reviewer Says: "Both the learner app as well as the LMS are easy to use. You don't need to be tech-savvy at all to author a course."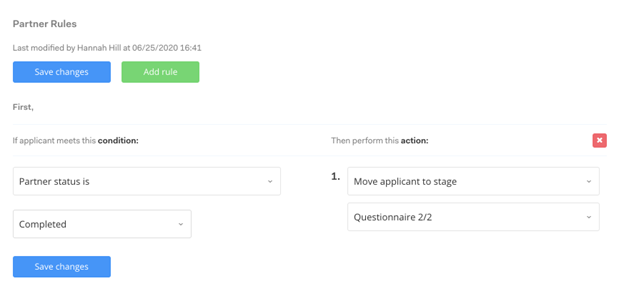 eduMe is a full-featured platform that can integrate seamlessly with the devices and apps workers are already using. It delivers mobile solutions for onboarding, upskilling, and other corporate training needs. eduMe includes tools for content creation, performance assessment, and data analytics.
Pros: The platform is relatively simple to learn and use, and user support is helpful.
Cons: It doesn't always play well with video and other external multimedia files.
Pricing: By inquiry.
Reviewer Says: "The levels of customization and branding are currently quite low but by no means a blocker for our usage. It would be great to introduce additional color schemes and graphic tweaks, but the core set is solid."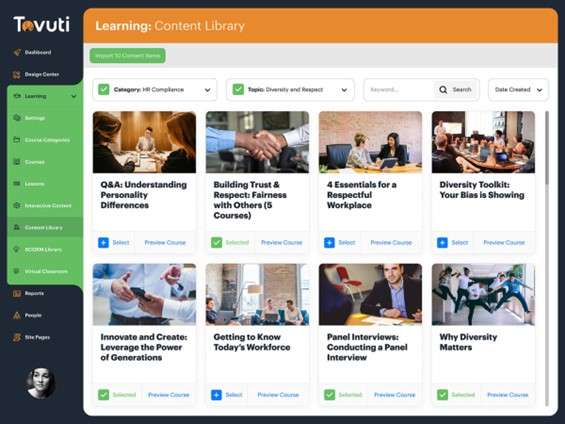 Tovuti LMS is an all-in-one solution that covers a broad spectrum of learning and development needs. It's packed with all the resources needed to create, launch, and manage various educational programs. It also includes helpful tracking and assessment tools to determine if they're succeeding.
Pros: Powerful and flexible, this LMS can handle many use cases.
Cons: There's no special emphasis on microlearning, and the high price tag might include many features you don't need.
Pricing: $775 per month for up to 50 users, $945 for 250, $1,325 for 500, and $1,925 for 1,500. Contact them for custom Enterprise pricing. There's also a setup fee that starts at $2,500.
Reviewer Says: "Tovuti LMS is excellent for organizations with limited knowledge on how to build their public-facing pages and those that produce limited amounts of content. Tovuti LMS is hard to use in organizations with specific white-labeling needs or who produce larger amounts of material for distribution."
Qstream's delivery system uses spaced repetition methodology to achieve higher knowledge retention rates. The platform provides tools for creating content and enhancing it with valuable features. The dashboard offers immediate visual insights into any issues learners might be having.
Pros: Provides high-quality data analytics.
Cons: The dashboard and administration panel can be difficult to navigate.
Pricing: By inquiry.
Reviewer Says: "Qstream should have a best practice sharing site or maybe offer more suggestions through a regularly scheduled call. There was hand-holding for the first three months, then sink or swim happened."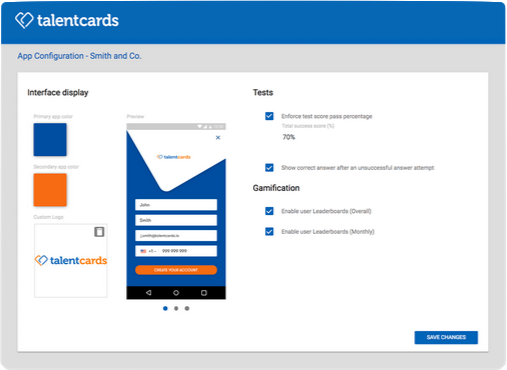 TalentCards provides content creation tools that allow you to deliver microlearning courses through their proprietary app. All content created employs a
traditional flashcard model, but can be upgraded with images, video, hyperlinks, and other enhancements.
Pros: The flashcards are fun for learners and simple to customize.
Cons: The platform limits how much you can change your cards and quizzes.
Pricing: Free for up to 5 users. The Standard plan is $50/month for up to 50 users plus $1 per additional user. The Premium plan is $75 per month and $1.50 for each user beyond 50.
Reviewer Says: "The only issues we experienced with TalentCards were a few glitches along the way. They were always relatively small and never took long to solve."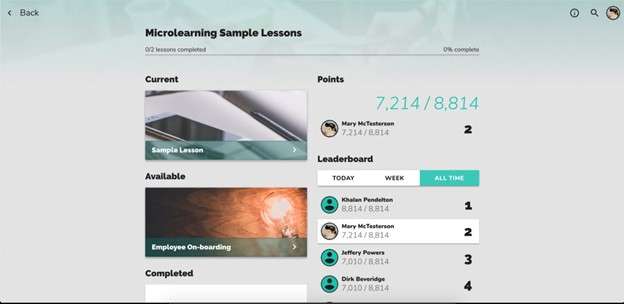 ConveYour's platform focuses on recruitment, onboarding, and training. In addition to the all-around tools it provides for developing and managing educational programs, it offers versatile communication options.
Pros: An advanced solution that won't flinch at complex, large-scale training needs.
Cons: This platform will be too costly and complicated for many businesses.
Pricing: The Launch plan is $500/month, and the National plan is $1,500/month. Inquire for an Enterprise plan quote.
Reviewer Says: "The learning curve to use some of the more advanced features is a bit steep, but once you get it, it's super easy to deploy a number of different user experiences."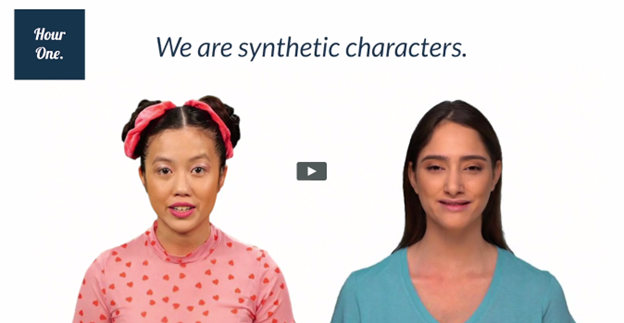 Unique to this list, Hour One is not a traditional microlearning platform. It's an AI video generator that can automatically create engaging, professional-quality videos with lifelike AI presenters. It only needs a minimal text source as a starting point, making it a powerful solution for efficiently creating microlearning videos at scale. Virtual lifelike presenters offer a diverse cast of instructors in over 60 different languages.
Pros: Learners are used to watching short videos on their mobile devices, making video the ideal medium for microlearning content. Hour One makes it possible to create lifelike presenter-led videos at a fraction of the time and cost it would take to record human talent in a studio.
Cons: Hour One is an AI video generator, so it doesn't include tools for performance assessment or other education-specific functions.
Pricing: $49 per month for the Basic plan, $149 for Advanced, and $499 for Pro. There is also a free trial version and custom enterprise pricing.
Reviewer Says: "Hour One provided the best of both worlds, allowing us to give students digital course options but without sacrificing the in-person experience we are known for."
Learning at the Speed of Life
In nearly any organization, employees are highly motivated to learn new skills. However, they need a way to learn well without having to consume time-intensive content. Microlearning engages learners at a rate that matches the fast-paced rhythms of their lives, delivering knowledge in a serving size their minds can more successfully digest.
While shorter learning times may get better results, you still have to keep students interested with high-quality production value and relevant content. Innovative solutions like Hour One's AI video generator allow you to affordably produce fresh, timely content whenever you need it. Try creating your first video for free to see what Hour One can do for your learning and development programs.