How Can Synthetic Media Help HR Departments Overcome Problems?
Human Resources Departments are tasked with performing many complex functions. Synthetic media can boost engagement, communication, and productivity.
New-Age Technology Supplants Legacy Systems of HR Departments
Human Resources Departments perform myriad invaluable functions for organizations. They are at the forefront of company operations vis-a-vis the most important resources of all – human assets. The dynamic business world is characterized by massive and unprecedented change.
Competitors are continually snapping at your company's heels, jockeying for position in the bustling market. But it's the collective knowledge, skill, and attributes of human capital that make the world of difference to a company's performance.
The experience, skills, and knowledge of trained human assets cannot be duplicated at the drop of a hat. HR departments are front and center when it comes to recruitment and selection, onboarding of new hires, training, and development of employees, integration and retention, learning and development, et al. Business efficiency is a function of the effectiveness of HR departments. Indeed, it is the Human Resource Department's raison d'être to build a functioning company culture, and allow camaraderie to blossom.
Since employees are the primary drivers of performance, productivity, and efficiency, they are a priority for companies. Human Resource Departments are there to guide the activities of personnel towards tactical and strategic objectives.
To this end, performance-based incentives, rewards, and recognition are required. Satisfied employees tend to be goal-oriented. This enhances the employer/employee relationship, builds loyalty, and ensures the long-term viability of the company.
These are but a few of the many HR functions that are performed on a daily basis. Tremendous effort goes into meeting the KPIs of HR Departments. Whenever a company deals with people, dynamism is at play. Challenges need to be overcome for companies to adapt to the new-age economy.
Organizations are continually evolving to meet these ever-changing systems. Unprecedented advancements in communications capabilities, social media, and online connectivity have facilitated a brand-new approach to HR functionality.
Key Challenges Faced by Human Resources Departments in 2022
HR Departments like the other management functions of companies are continually adapting to stay abreast of the latest changes. This evolution is necessary if a company wishes to remain relevant in today's times. The unprecedented move towards remote work has made it even more important for companies to attract, train, and retain the best personnel.
Workforce mobility, adaptability, and functionality are worlds apart from what they were a decade ago. We can thank the Internet of Things, unprecedented advancements in multimedia capabilities with online video conferencing solutions, CMS systems, and remote management tools. The workplace of 2022 is worlds apart from anything we have seen before.
Pressure is being brought to bear on HR Departments in this new-age economy. Appealing employment packages are now more important than ever. Attracting talent, training talent, and retaining talent are equally important. This brings us to the key challenges faced by human resources departments in 2022.
How to Effectively Engage Your Workforce
Workforce engagement is one of the most important practices for HR departments. It's not easy to engage employees, because traditional methods are not as effective as new-age technology. For example, landing pages with dry text, static pictures, and standard marketing material simply doesn't grab the attention of prospects as well as they should.
Bounce rates remain high with companies who use traditional engagement techniques to attract tech-savvy prospects in the workforce. We now know that deskless workers are making up a growing proportion of the workforce. This allows companies to source the best people for the job, irrespective of where they physically live.
Managing Talent Acquisition
One of the most challenging tasks of HR departments is how best to create a marketing campaign that espouses the company's vision, mission, and ethos, and how to relay that to talented job seekers. HR departments recognize that a professional and personalized approach is best to achieve these purposes.
Technology is the X factor in this regard. HR Departments are using online video recruiting methods to generate impactful outcomes with jobseekers. By personalizing their approach towards new talent, it's possible to engage job seekers more effectively.
Improved Communication Channels
Communication lies at the heart of all successful company activities. Productive relationships rely on open lines of communication between employers and employees. Feedback is sacrosanct. One of the most effective ways to improve communication channels is through multimedia options like presenter-led online video presentations.
Professionally crafted videos can have a positive effect on workplace morale and productivity. Video is the most effective method of communicating between companies and their stakeholders. Interactive communications with recorded messages can be assessed by HR Department personnel. This can generate effective feedback, identify problems, and nip them in the bud.
Motivating Employees
There is nothing static about the workforce. Employees need to feel motivated to perform to expectations. Employers are tasked with recruiting the best talent through a variety of online channels, including job boards, job fairs, online forums, and social media. Employees are motivated by many different factors, including compensation, benefits, incentives, work/life balance, flexi-time, remote work, et cetera.
Building A Strong Company Culture
Few factors influence the viability of a company more than the right company culture. This goes to the very heart of an organization's performance. It comes as no surprise that the world's foremost companies are attractive by dint of their company culture.
Think of the tech companies in San Francisco – Apple, Facebook, Google et cetera. The company culture makes them attractive workplaces for employees with significantly lower levels of employee turnover and extreme competition to get hired.
The recruitment, training, and development initiatives of HR departments become even more important when dealing with such matters. The corporate culture must be in sync with the candidates the HR department is trying to attract.
By actively managing and developing corporate culture through the hiring process, it is possible to generate plenty of favorable outcomes. These include improved retention, better performance, and higher overall satisfaction
HR departments may struggle to relay corporate culture to job seekers. Now they are turning to professional presenter-led videos to help. It is vital that companies pick the most converting, engaging, and attractive multimedia options when communicating with new prospects. Dry text on landing pages, recruitment drives, or job boards is lacking in this regard.
Building a strong company culture is a work in progress. It is an ongoing activity that must evolve and adapt to the type of people a company is trying to attract. The primary tasks and challenges of HR Departments include the development of a viable corporate culture, recruitment and training, retention and motivation, and training and skills development to ensure the strongest possible workforce at all times.
How Can Synthetic Media Help HR Departments Achieve Pre-Stated Objectives?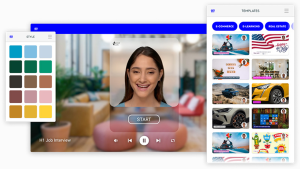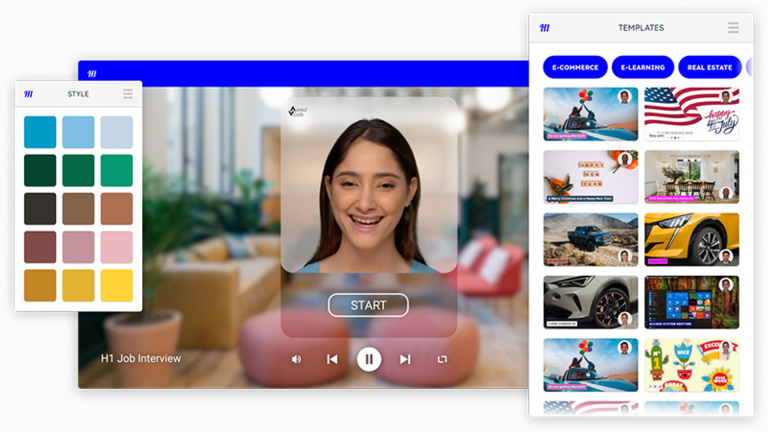 For many folks, synthetic media appears to be a new-age concept. Truth be told, it is years in the making. This type of media is generated by AI – artificial intelligence. Deepfakes aside, there is plenty to celebrate with synthetic media and its legitimate usage capabilities for companies.
For example, instant online video production companies now provide HR Departments with the ability to choose a human presenter who is actually an AI creation (indistinguishable from a real human) to professionally present an HR video.
The concept itself is mind-boggling since many HR departments still operating legacy systems tend to create HR videos in-house or outsource them to traditional video production companies. There are natural limitations to in-house production or outsourcing to traditional video production companies. These relate to resources, costs, time, and effectiveness.
Traditional methods of creating HR videos are expensive and time-consuming. The lead-time is far too long, and edits are a real bear. Enter synthetic media with HyperReal video production technology.
HR departments can easily use all-in-one platforms with nothing more than a script to create a professional online recruitment video, training and development video, or onboarding video at the click of a button. Cutting-edge technology makes it possible to customize these videos to perfection, in a fraction of the time it takes a traditional video production studio. Plus, the costs are significantly reduced and there is no limit to the number of HR videos that can be created.
Job applicants cannot differentiate between synthetic media characters and authentic characters. The technology is so far advanced that it appears real in every sense of the word. The presenter-led videos mimic human presenters because the AI technology which built them is based on real people.
Flawless online video presentations, multi-language options, and rapid production of highly converting and engaging videos are guaranteed with every rendition. The real benefits are seen with edits since it only takes minutes to edit videos, add content, or modify the material.
Video is by far the most efficacious channel for engaging job seekers, communicating with employees, and relaying messages to company stakeholders. The world is transfixed by video. Everyone is watching hours of video every single day. Just click play!