In the ever-changing landscape of video creation, the realm of AI has experienced remarkable growth, bringing forth a new era characterized by enhanced creativity and productivity. With remarkable advancements in AI technology, a wide range of tools and resources have emerged, transforming the way videos are crafted. 
Whether you're a content creator, marketer, or an avid enthusiast eager to delve into the realm of AI-driven video creation, this comprehensive guide will provide you with a detailed, step-by-step walkthrough on harnessing the power of Hour One's state-of-the-art technology for making AI videos that are highly captivating.
What are the benefits of AI for Video Creation?
Because manual video creation processes can be very labor intensive, AI is taking hold as an effective and affordable solution for producing video content.
Traditional video production has a lot of moving parts. You need to create scripts and storyboards, hire performers and crew, rent or buy cameras and other expensive equipment, and shoot your raw footage. Then you have to add music, graphics, and effects and edit your video into a final cut. AI video generators can handle every element of this process independently.
Like any generative AI tool, all an AI video generator needs is a prompt: a block of text that tells it what the video is supposed to be about and what important points it needs to cover. Tools like ChatGPT can assist with this crucial step by creating detailed scripts that provide a complete structure for the AI video generator to follow.
Once the AI video generator has a text prompt, it can create all of the footage and even add lifelike virtual presenters to deliver lines and narration with a relatable human touch. AI video generators can be configured to follow preset templates and include transitions, visual effects, infographics, music, and every other element that goes into a professional video production.
Here's where AI video can be of great value to you:
By using an AI video generator, almost all your video creation needs exist on the one platform. You will no longer need to create scripts and storyboards, hire performers and crew, rent or buy expensive equipment, shoot your raw footage, or pay someone to edit your video. AI video generators can handle every element of this process independently, allowing you to save your budget for other purposes.
In just a few minutes, you can produce hours of video content at the press of a button, saving you time on script writing, location scouting, hours of filming, and the most time-consuming of all – editing. You can even effortlessly customize your videos or translate them into different languages as needed.
According to various studies, video is a powerful tool for engaging your audience and boosting your business's awareness. By using lifeline virtual presenters or different visual effects to deliver your message, you are giving your video a relatable human touch that will capture your customer's attention and keep them engaged. When using your company's logo or incorporating your brand identity, you are enhancing your content's consistency and making your video more memorable.
How to make videos using Hour One
If you've ever wondered how to streamline the video-making process while giving your content that customized touch, you've come to the right place. Hour One is the perfect solution for realistic and personalized yet AI-generated content, and we're here to guide you through each step of the way.
The following five steps will show you how to create videos using Hour One and ChatGPT.
If you haven't yet joined the Hour One community, the signup process is quick and easy. Click on "Sign Up," enter your essential details—name, email, and password—and then confirm your account via a verification email. Already a member? Just log in to proceed.
2. Kickstart Your Video Production
Logged in? Great! Now, find and click the "New Video" button. This is your gateway to three different routes for creating a video:
Templates: Ideal for beginners or those on a tight schedule.
Upload a Presentation: A good option if you've got your material ready in a slide format.
Prompt-to-Video Wizard: Perfect for those who want a video made from just a simple text prompt.


3. Select Your Purpose with the Right Video Template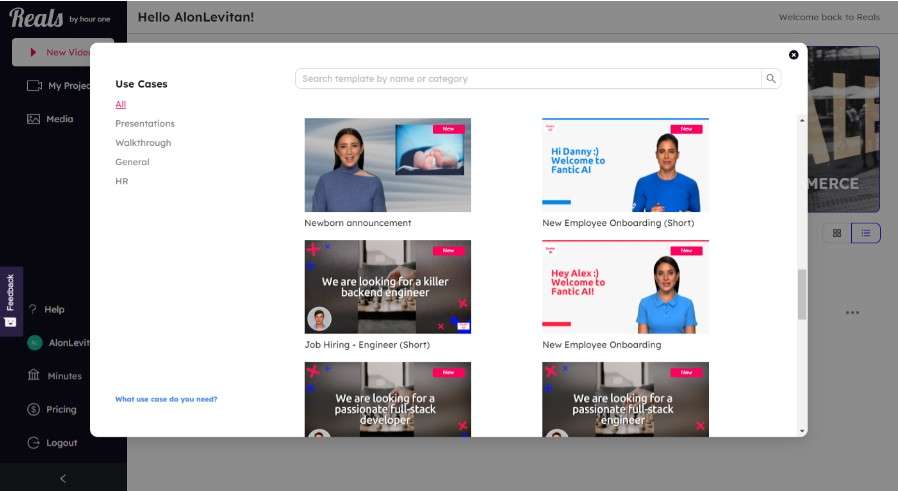 Hour One offers a multitude of video templates for various niches like education, marketing, and even real estate. Browse through and select the one that closely aligns with your video's objective. These templates are not just empty shells—they're pre-optimized canvases designed to make your content look personal and professional.
Hour One lets you create a script scene-by-scene. Each scene can hold text, images, and other visual components, with the option to create as many scenes as you would like. Plus, you've got the AI-backed "Script Wizard" to generate ideas for you. Here's how to go beyond the basics:
Presenter: You can choose from a collection of virtual avatars. Pick one that embodies the spirit of your brand and adds that human touch to your video. By adding a video presenter to your video, you are not only making it more engaging, but you are enhancing the personal feel it holds. 
For users looking for a more advanced option and interested in creating a customized presenter, get in touch with Hour One to receive detailed instructions on how it is done. 
Voice Options: Customize your voice-over by reviewing the range of voice options and selecting the best one for your video. Want a male or female voice? A particular accent? It's been said that Irish accents are known to be very impactful on viewers. You can even clone your voice for an even more personal touch. A well-suited voiceover can make all the difference to your video and enhance its overall impact. 
If you select to digitally clone a voice, you can store it in your Hour One voice library and use it in future projects.
Select a video style: Different video styles mean different visual experiences. Hour One offers different video styles to choose from. Browse through and select the style that best amplifies your brand's message. By choosing a style that complements your content, you will enhance your video's overall look and feel, making it more engaging and professional.
Add your logo: This is your brand's signature. Add your logo to give a professional touch to the video and increase brand identity and recognition.
Select a tune: Finally, look through our musical library to find the tune that will engage your viewer the most. Be it a soft melody or a high-energy beat, music is often the way to set the mood, evoke emotions and engage your viewers.
5. Bring Your Video to Life!
Once you're satisfied with all the customizations, it's time to wrap it up. Hit the "Create Video" button, and Hour One's AI engine will stitch together your content, presenter, sounds and visuals into a seamless video.
After the video is generated, you can download it, share it with your network via a link, or even embed it on your website or within an email.
So there you have it—a comprehensive guide to creating an attention-grabbing, AI-powered, high-qaulity video with Hour One. Whether you decide to customize an AI receptionist, AI news anchor, or an informative walkthrough videos, with these simple yet detailed steps, you're not just making a video; you're crafting a compelling narrative that can wow your audience. 
To learn more about Hour One's platform for your video production needs, feel free to get in touch or try a free trial.