Virtual receptionist service deploys AI-powered human avatars at scale, achieving total flexibility in video-based multilingual customer assistance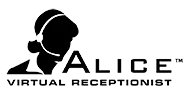 ALICE Receptionist is a virtual receptionist service using AI to provide info and manage calls and appointments, helping businesses automate their front desk operations.
The Challenge
Alice Receptionist is an on-premise visitor management tool designed for consumer-facing businesses. Their interactive, virtual clerks greet and check-in guests, verify visitor health, print their badges, and provide two-way video communication to connect guests with onsite or remote staff, through scripted video recordings.
Maintaining consistency across different filming days with the same actors for filming is incredibly difficult and time-consuming, requiring coordinating factors such as lighting, clothing, hair, and makeup. As a result, updating the content and maintaining consistency is challenging, even if the actor is available to film new content or edit existing content. Small changes required big efforts.
Another major challenge is with creating content across different languages, as real human actors rarely speak English, Chinese, and Arabic fluently.
Hour One's Solution
To solve the challenge of maintaining consistency in their video content, ALICE turned to Hour One for AI-based virtual human solutions.
Once implemented, ALICE was able to generate an entire library of videos relevant for use in various markets by simply submitting text and selecting their preferred digital receptionist. This process completely replaces traditional video production and allows for easy updates by simply editing the text, eliminating the need for reshoots.
They were now also able to provide services in any language fluently — particularly important when offering solutions to office and retail locations across global markets, allowing clients to effectively communicate with their customers in their native language.
The Results
Flexible video library
Vastly increased the flexibility and customization of ALICE's virtual receptionist content through a rapid, highly flexible video generation process.
10x agility
With automatic avatar video updates, ALICE leveraged Hour One's tech for buildings with rapidly changing requirements — such as the swift implementation of new COVID safety protocols.
Rapid market expansion
Photoreal virtual receptionists were now multilingual, delivering content in English, Arabic, Spanish, and French, which facilitated the global expansion of ALICE's product into new markets.
We were looking for a more efficient and flexible way to produce content at scale, without losing the life-like qualities of a real human subject. With Hour One's technology, we could translate the same content into multiple languages, seamlessly, using the same receptionist personas, and offer a more smooth and agile product, and serve customers better in different markets.
Mike Yoder,
Founder & CEO