If you're like many of us—juggling a busy schedule but needing quality content—you'll appreciate the efficiency technology can offer when it comes to Text-to-Video AI Generators.
For many businesses, brands, or organizations looking to take written content —be it a report, a proposal, or even a personal story—and turn it into engaging video content, traditionally, this would mean diving into the complex world of video production, a task that requires skill, time, and often, a considerable budget. But as we're about to explore, technology has once again leveled the playing field.
With the emergence of text-to-video AI Generators, it's now possible to effortlessly turn textual content into captivating video content. Best of all? Some of the most effective tools out there won't cost you a dime. Join us as we delve into the top 5 free platforms that cater to this need, making the once-daunting task of video creation accessible to all without the need for any previous skills or experience. 
What is a text-to-video AI generator?
Text-to-video AI Generators, similar to AI voice generators, are a type of software that leverages AI technology to automate the process of creating videos from written text. This innovation takes your input—be it a script, article, or even a simple outline—and transforms it into a compelling visual narrative. It usually incorporates a range of elements like graphics, virtual presenters, voiceovers, and background music, all carefully selected and synchronized to match the content of the text. The result? A professional-grade video presentation that effectively conveys your message but without the need for specialized skills in video editing or production. Whether you're looking to enhance a business proposal, improve your marketing strategy, engage new employees in training, or simply bring your product to life in a realistic demo, Text-to-Video AI Generators offer a convenient and cost-effective solution for your company.
Here are some of the most popular free (in no particular order) text-to-video AI generators for you to choose from: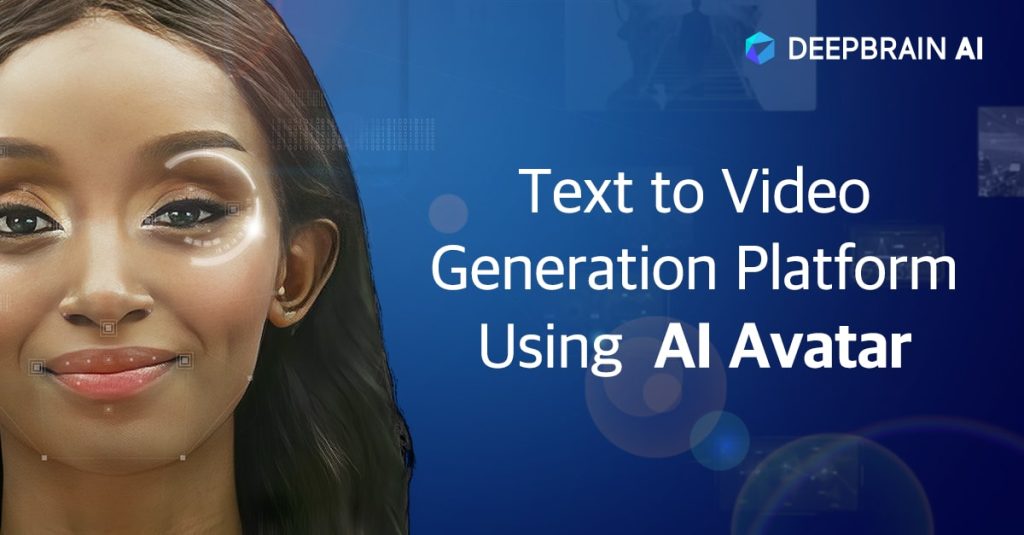 Realistic AI avatars: Choose from a wide-ranging library of AI avatars that are strikingly lifelike, making your content both captivating and relatable.
Multi-Language & Vocal Options: With support for over 80 languages and various vocal tones, you can now reach a global audience without compromising the nuance of your message. 
Customized Storytelling: You're not limited to a single scene or backdrop. Each scene can be customized to align perfectly with the text, making your story heard, seen, and felt.
Zero Branding: Unlike many free platforms that watermark your creations, this feature ensures your video remains clean of DeepBrains branding, giving a more professional look to your content and making it more appealing to your target audience.
DeepBrain allows users to trial the platform for free, creating videos of up to 1 minute. The basic plan is ideal for those new to text-to-video creation. It allows users a total of 10 minutes per month. With no watermark, users have up to 100+ AI avatars, 80+ languages, and a selection of voices to choose from.

As pricing plans increase, so do their usage capabilities, with plans reaching $600/month and over 240 video minutes/month.

Companies can also ask for custom pricing based on their specific needs. 
Time effective: Generate AI-powered videos in as little as 5 minutes, optimizing your workflow.
Authentic AI Figures: Infuse your videos with a human-like quality using realistic AI characters.
Global Accessibility: With support for over 80 languages and various vocal tones.
Tiered Pricing Options: Designed to accommodate newcomers and regular users, offering affordability and advanced features.
Time Constraints: Those using the Starter Plan may find the 10-minute cap on video length limiting.

Text-Centric Approach: For those who are more design-inclined, the absence of traditional video editing features could be a drawback.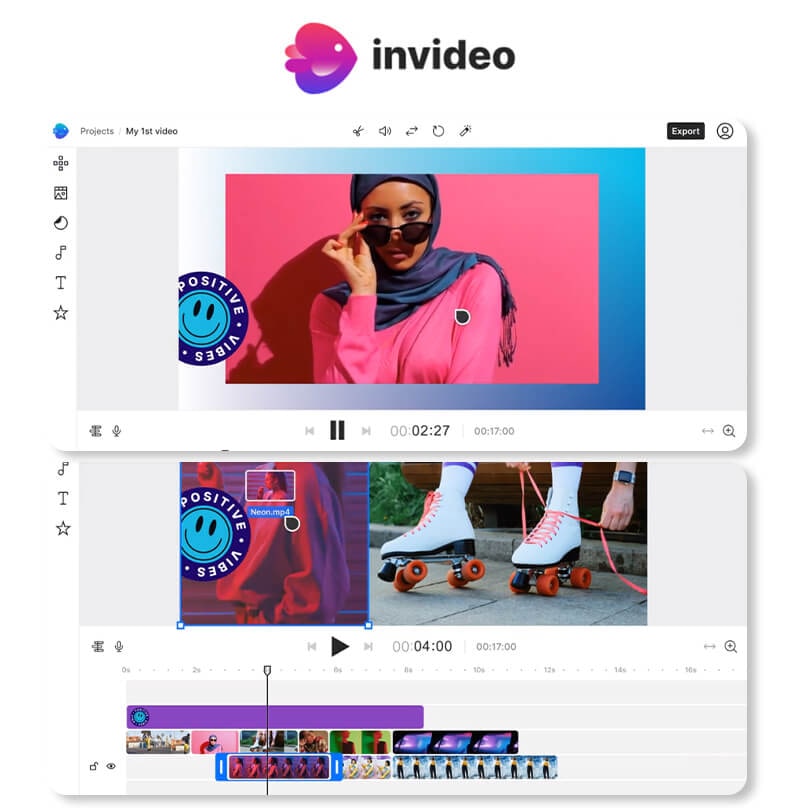 Diverse Template Selection: With over 6000 video templates to chose from, InVideo offers an eclectic range of pre-designed templates, each created to meet the needs of multiple sectors and purposes. 
Highly customizable: InVideo lets you personalize your videos by incorporating text, imagery, and other dynamic elements. Fine-tune the hues, typefaces, and overall layout to align with your brand's identity. 
Team collaboration: Collaborative features allow multiple team members to contribute to a video project. Share, revise, and finalize your videos collectively for a well-rounded end product.
Seamless Integrations and exporting: Effortlessly upload your video content on platforms like YouTube and Google Drive. You can also choose from a myriad of export formats, including but not limited to MP4 and MOV, to ensure compatibility and ease of use.
Invideo offers three primary subscription tiers to suit various needs and budgets: Free, Business, and Unlimited.

The Free plan provides access to all video templates, a diverse media library, an AI script generator, and text-to-speech features.

The Business plan, priced at $15 per month (paid annually), includes more export allowances, watermark removal, and premium media, as well as other features.

For those seeking the full suite, the Unlimited plan is available at $30 per month, offering more features and certain unlimited allowances. 
Built-In Editing tools: This feature caters to users who want the freedom to tailor their videos, offering various editing tools within the platform.
User-Friendly Design: Designed for ease of use, Invideo features an intuitive user interface and offers guided tutorials, making video creation and editing a breeze.
Analytics Dashboard: The platform comes with performance metrics, offering valuable insights into video engagement and improvement recommendations.
Comprehensive Support: From how-to videos and FAQ sections to dedicated customer service, Invideo provides ample resources to help users navigate the platform effectively.
Limited Export Formats: The platform's constraints on supported file types can be a drawback for users with specific export requirements.
Confined Resolution Options: A limited array of exportable video resolutions could be a sticking point for users who require particular output qualities.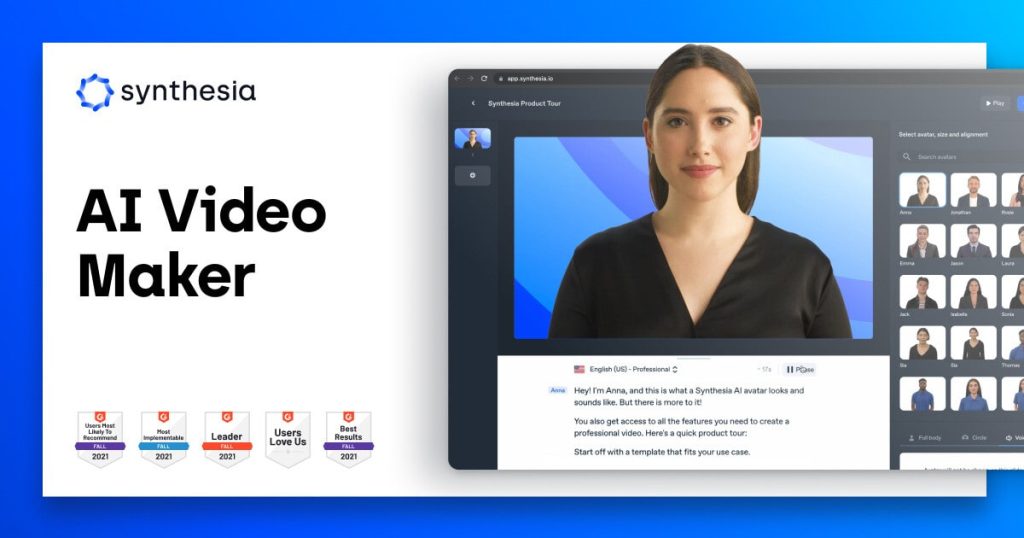 Robust AI Avatar Options: Synthesia provides a range of over 90 AI avatars, each with customizable attributes, allowing you to create truly personalized video experiences.
Multilingual Capabilities: With support for over 65 languages, Synthesia is ideal for businesses that operate on a global scale.
Variety of Video Templates: Choose from more than 50 adaptable video templates, enabling you to produce compelling content more efficiently.
Screen Capture Feature: Capture your on-screen activities effortlessly to create dynamic presentations based on what's happening on your screen.
Background Music Collection: Enhance the impact of your videos with Synthesia's library of music tracks
While Synthesia isn't strictly a 'free' service, it does offer a complimentary demo feature. In this demo, you can experiment with a video template, input your script, choose an avatar and voice, and produce a sample video

The premium membership starts at $22.50 per month. It covers a single user seat, the ability to include up to 10 scenes in each video, assistance from AI for scriptwriting, and the unique video cloning option.

For larger-scale needs, there are enterprise-level accounts for larger-scale needs where pricing is customized based on the number of user seats, offering an even broader array of features.
High Video Quality: Leveraging AI technology, the platform enables even beginners to craft high-quality video content.
Evolving Feature Set: The service is committed to ongoing improvements, regularly rolling out new features to enhance user experience.
Streamlined User Experience:  The platform's user-friendly video editing studio significantly simplifies the often complex video production process, making it accessible and straightforward for users at all skill levels.
 
Personal Plan Limitations: The personal plan is quite limited in features, such as the number of videos you can produce and custom avatar creation, making it less ideal for frequent users.
Lack of API Access: The absence of API support on the Personal plan further constrains the volume of video output.
Professional Production Gap: Despite its robust offerings, Synthesia can't fully match the quality of videos produced by specialized production teams.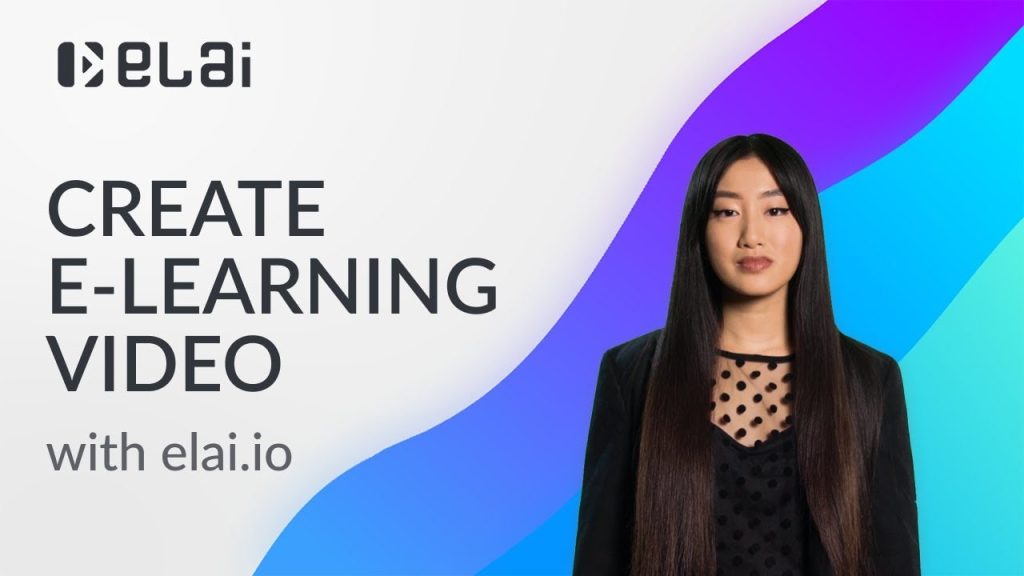 Automatic Enhancements: Elai goes beyond the basics by offering auto-captions, subtitles, and automatic translations, making your content accessible to a wider audience, regardless of language barriers.
Authentic Voice Cloning: Harness the power of voice cloning in 28 languages to bring a personal touch to your videos. 
Streamlined URL Conversion: Convert web content into engaging videos effortlessly with their URL to video automatic conversion feature. Transform articles, blog posts, and more into captivating visual narratives.
Voice cloning: Make your videos more authentic by recording and uploading your own voice to create a custom avatar. Your unique voice will resonate with your audience like never before.
Seamless Integrations: Connect with popular platforms like Thinkific, Descript, Pexels, and more through Zapier. Streamline your workflow and optimize your content creation process.
Start your creative journey on the platform with a free account allowing up to one minute of video creation.

Paid plans start at $23 per month (annual billing), offering 15 monthly minutes of video creation within the Basic plan.

Elevate further with the Advanced plan starting at $100/month, granting 50 minutes of video creation alongside a brand kit, custom fonts, premium voices, and music upload.

For more user demands, the Enterprise plan provides tailored solutions, unlimited seats, a dedicated account manager and workspaces. 

Elai also offers paid add-ons. For a custom avatar, you will pay $500/year with professional quality or $259/year if you use your cell phone or camera to take a selfie.

If you need voice cloning, then add $500/year.
Flexible Pricing Options: Elai's pricing delivers high flexibility with their plans offering 15-50 monthly video minutes at the cost of $23-80/month within their Basic plan and 50-200 monthly video minutes for $100-$352/month in their Advanced plan.

Effortless Translations: Achieve seamless one-click video translations, providing global reach error-free.

Seamless Integrations: Elai's proprietary API and native integrations enable workflow versatility.

Versatile Avatars: Choose from Studio, Selfie, Photo, or Animated mascot avatars, even integrating voice cloning.
Avatar Actions: Elai lacks avatar gestures, a dynamic attribute recently introduced by competitors,  enabling adjustments to AI avatars' ages, emotions, and expressions.

Avatar Variety: With 35 available avatars, Elai's offerings fall short of competitors, providing users with more significant choices.

Lip Syncing: Users have reported poor lip-syncing abilities for specific avatars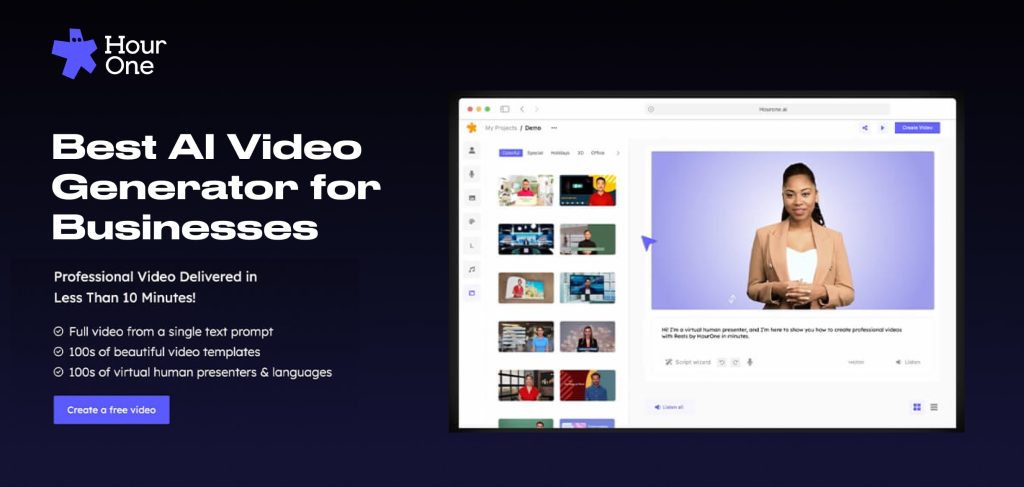 Avatar and Character Customization: With over 100 characters and a constant influx of new additions, you're never short of options. You also have the option to design your own characters.
Multilingual Support: Choose from a library of multiple languages to cater to an international audience. Simply select your preferred language and add your text.
Broad Vocal Features: Select from various voices, intonations, speaking speeds, and accents to give your characters the most effective vocal profile.
API Integration for Mass Output: You can generate hundreds of videos at once through API integration, converting text into more human-like content swiftly and efficiently.
From Images to Slides: The platform allows you to upload and utilize a range of existing media, be it images, videos, or PowerPoint slides, to enrich your video content.
Control Your Brand Identity: Define your branding elements, right from the logo down to the specific colors and fonts, to maintain brand consistency.
Team Collaboration: Invite team members to collaborate on video projects, enhancing the creative process and end result.
Flexible Sharing Options:  Whether you download your video as an MP4 or use the embed code, you have various options for sharing your content—be it on social media, websites, landing pages, product descriptions, or even e-commerce stores.
For a try-before-you-buy option, users can try Hour One's platform with a free trial, no credit card needed.

For individual creators, a modest $25 investment unlocks an enhanced toolkit, along with three team seats and the option to download videos.

If you're a business looking for more, a $95 subscription provides access to a premium suite of features, complete with branding options, dedicated support, and five team seats.

For a more tailored solution aimed at large-scale organizations, an Enterprise plan includes unlimited minutes, total customization, and enhanced use of existing features.
Streamlined User Experience: Enjoy an intuitive interface that makes crafting professional content a breeze. Hour One's platform is designed for convenience, guiding you every step of the way.
Self-Guided Tutorials: Get up to speed quickly with helpful, self-guided tutorials that walk you through all you need to know.
Text-to-Speech Made Simple: Hour One's text-to-speech functionality seamlessly transforms your written ideas into dynamic videos. No fuss, just easy and effective content creation.
Photorealistic Virtual Presenters: Captivate your audience with virtual presenters, renowned for their incredible facial clarity. It's as close to real as it gets.
Brand-Specific Templates: Personalize your content with customized templates that reflect your brand's unique style. You can even apply these templates to future videos for a consistent brand image.
No-Experience-Needed Video Editing: Hour One's video editing features are designed for ease of use, meaning you don't need any prior experience to create polished videos.
Responsive Customer Support: Questions or concerns? The customer service team is always on standby, ready to assist and make your experience as smooth as possible.
Users have reported difficulty inviting other users to the platform

There is no available option for users to upload and add their own music
In a world where time is precious and quality content is essential, finding a platform that offers a streamlined way to transform text into captivating videos is priceless. Whether you're an individual creator or a business seeking a comprehensive solution, start your creative journey with a free plan and experience the magic for yourself.
Try our FREE text-to-video tool
Unlock the potential of text-to-video with Hour One AI video tool today and revolutionize your content creation process. Try our free trial and witness the transformation firsthand.