As fast-paced companies accelerate growth and expand services, products, and staff, it's challenging for HR teams to keep training up-to-date. Employees need the latest information to do their job well and be a valuable part of the team. Boring training manuals won't work to keep employees engaged and on point. Videos are preferred by 83% of employees over text or audio training content.
But making great training and onboarding videos is often tedious, frustrating, and costly. Creating high-quality employee training videos quickly, efficiently, and at scale is becoming crucial for any company's success. More importantly, every training video needs to include six essentials that will help guarantee its effectiveness.
Let's dive into employee training videos, the four different types, their benefits, and the essentials you need to include to create a great employee training video that gets results.
What are employee training videos?
A training video is video content that HR delivers to employees to assist them in mastering a specific skill or area of knowledge in the workplace. Corporate training videos and their quality are frequently a significant aspect of company culture. The better the training, the more likely the employees will enjoy their time at work and perform better at their job.
HR teams need a continuous e-learning process to ensure training videos are up-to-date with the new information, latest terminology, and references. They need to change videos to keep them current and add new videos as products, services, and programs are updated. They also need the right tools and types of videos to match the needs of employees for each training process.
The 4 Types of Employee Training Videos
There are four types of videos commonly used by HR training teams:
These videos are usually easy for employees to follow for various topics. It's essential to have a good presenter and script for high engagement. With interactive content, training becomes more flexible to deepen the learning for employees in new scenarios and case studies. 
These videos don't require sophisticated equipment to produce. They use voiceover to describe the process seen on the screen, so employees can follow the steps to simplify the process for effective learning.
These videos are relatively easy to produce with minimum effort. They provide guidance to quickly understand how to get started on a task by replicating what's shown. 
Animation can help to simplify terms and create an immersive learning experience for new processes and concepts. They are visually engaging and help with information retention. However, they require a level of expertise to create and time to produce.
What are the benefits of employee training videos?
High-quality videos help HR teams to meet a company's training objectives with effective resources and flexibility. Instead of having to attend a live training, employees enjoy learning when they want to in the comfort of their home or office, on-demand. They're free to integrate training videos into their everyday schedule at their convenience. With higher engagement and free accessibility to new knowledge, employees quickly integrate new tasks and skills on the job. Employees feel more productive every day, and they have increased work satisfaction.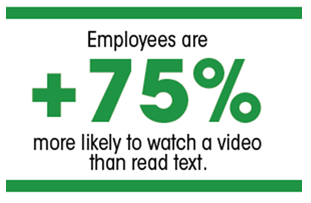 For companies, employee training videos save the time, expense, and travel required for in-person training. It makes training more effective, because studies have shown that video increases retention of details and concepts. Video training also ensures that each employee is consistently trained the same, so there is no differentiation of learning the material due to different instructors. Training videos also create an opportunity for companies to create a brand and culture around their training that employees can relate to.
6 Essentials Every Employee Training Video Must Have
Training videos must be high-quality, easy to create, and updateable at scale, but they also need to be engaging for maximum employee impact. Let's see how HR teams can reap the benefits of employee training videos by incorporating these six essentials.
Every training video must have a clear objective. Employees need to be prepared and understand what they'll get out of the video. Specify the video's objective at the start by including it in the title before diving into the details. Design the entire video, from concept to script to execution, to achieve the stated objectives for quality training. Having presenters in training videos enhances this process because they increase focus engagement, which helps to reinforce the video's objectives.
Planning logistics and content may be time-consuming, but it's the key to success. Determine the type and style of video to meet your objective based on your available resources and what's best for your employees. Invest in the right tools and equipment. Collaborate with a team of subject matter experts, graphic designers, and video editors to ensure high production quality. Be sure to do thorough prep before the shoot. Since most training video projects require 15-30 videos and good teamwork, use a tool to organize, track, and streamline the process for your project management and review cycles.
Low-quality videos can spoil the employee training experience. Here are some tips to ensure higher quality productions:
Use an HD video camera, steady tripod, professional microphone, and secure a quiet location. 

Prepare your video environment to avoid visual distractions by clearing the screen and a simple backdrop. 

Ensure voices don't echo by employing sound editing software.

Keep screen-recording smooth and seamless, ideally in one take with clear annotations and voiceovers. 
To avoid the messiness of physical production, consider using a powerful AI video generator that makes it easy to deliver a professional-looking training video product. They allow the creation of videos faster, at scale, and without the expense and staffing of traditional video production.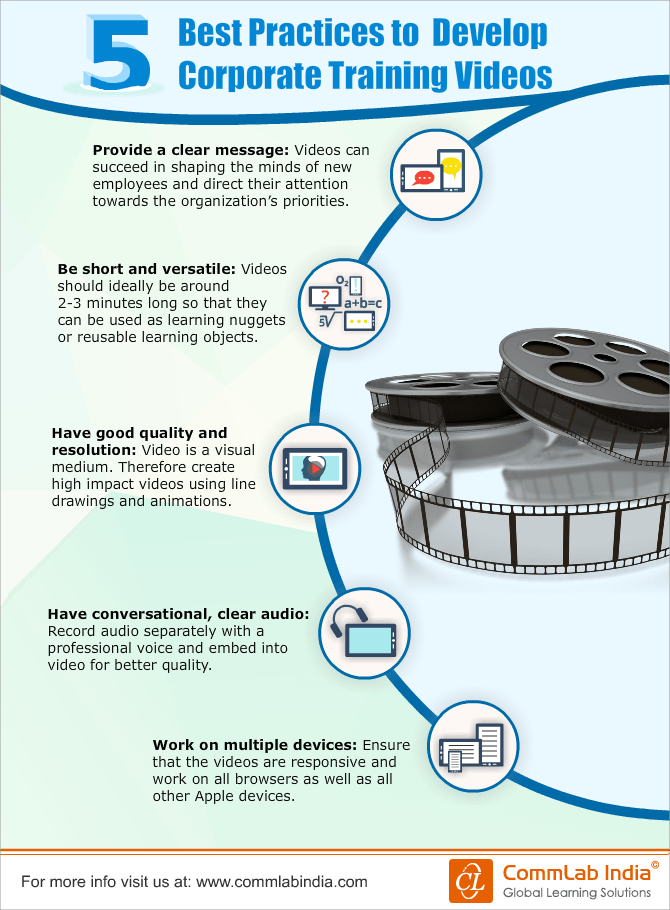 Spend time on your video's script and content. Your training video needs a script with concise and easy-to-understand text and engaging visual design to be effective. To be more memorable and relatable, use storytelling to make your message points stick. Break up dry, serious materials with some surprising, humorous elements. Don't forget to ask questions, then pause to enable thinking. 
Use animation for visual impact if you have the time and expertise. Spark interest with fresh photoreal characters to motivate employees, and liven it up with great images. The more relatable and engaging your video, the more employees will remember the content.
With a relatable script to tell your story, the right presenter adds credibility and a personable, human touch to employee training videos. Finding and scheduling expert presenters is a challenge, and finding one that's both engaging and effective can be expensive. 
Fortunately, AI video generators offer synthetic presenters that make the HR team's job easier, don't require the time of human presenters, are cost-effective, and are fully customizable.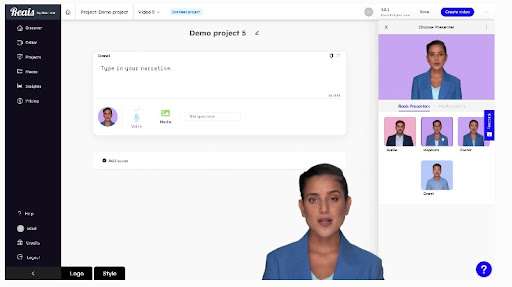 HyperReal presenters based on your own team's leaders and experts create a more authentic, credible, engaging, and memorable training experience for employees. Your HR personnel can create synthetic character-led training without prior expertise. They can easily make presenter-led videos to quickly distribute new information and training to employees at a low cost.
Go beyond the presenter's face and voice as much as possible to get your point across better. 
For example:
Use a simple whiteboard and marker to draw concepts visually. 

Show a recording or listen to music.

Suggest a metaphor or mnemonic memory tool for simple ways to remember. 

Stop after explaining complex topics to show a practical example and call to action to lock in the learning. 
These helping props and tools greatly enhance the employee training video experience. Employees need clear and concise takeaways to bring the training into the workplace, but these tools can be hard to incorporate for presenters. AI video generators can help your HR staff integrate scenarios and examples you're already using into training videos with relative ease. 
Transform Your Employee Training Videos
Employee training videos are an essential part of the modern workplace. When done right, they offer a way to quickly disseminate information and training to new or existing employees while becoming a positive part of the company culture. 
In order to consistently create effective employee training videos, be sure to incorporate the six essentials. Your videos will instantly transform, becoming engaging and memorable for employees and easier to produce for HR.
AI video generators like Hour One present an easy-to-use, comprehensive digital solution for workplaces. Using modern video generation tools, HR will be able to create high-quality employee training videos in minutes, in any language, on a large scale, and at a fraction of the cost. The benefits to any organization will be tangible, and happy employees are indeed worth the effort.