The modern business environment has something in common with your local sports bar or favorite sci-fi TV show—there are flickering video screens everywhere. The business uses of live and asynchronous video have skyrocketed. It's revolutionized how people interact, learn, develop, and even create iconic brands. Whether it's a client discovery meeting or an HR training seminar, the chances are high that the communication is happening on video.
The result is that more and more enterprise-level organizations are creating videos. In the last three years, 76% of marketing teams have invested in video production. Virtual classrooms, webcasting, and video streaming are all used as training tools by 88% of businesses. A recent study by HubSpot found that 37% of companies exclusively produce their own video content in-house, 14% utilize an agency, and 49% combine in-house and agency production. 
With so much video being produced by companies for different use cases and audiences, the challenge is finding a centralized way to securely create, manage, and distribute multiple use-case videos across the globe. The answer is to employ an Enterprise Video Platform (EVP). These powerful software platforms offer a single, end-to-end solution for delivering video experiences over large networks, to any device at any time. 
Let's take a deeper look into EVPs, why businesses use them, and the top eight enterprise video platforms for 2022.
What are enterprise video platforms?
Enterprise video platforms are video content management systems specifically designed to assist enterprise-level businesses in managing, hosting, storing, and distributing videos. An EVP usually offers broadcasting features, production and editing capabilities, on-premise or cloud video hosting, and robust security features. They also include a variety of 3rd-party integrations with commonly used business software, such as meeting platforms, content management systems (CMS), content delivery networks, and sales and marketing platforms.
EVPs include an array of monetization options and advertising control, allowing increased ROI on videos distributed through the system. They are commonly used for corporate learning and development, live streaming, customer support, and other functions needed for business operations. 
The focus on business and B2B solutions is an important distinction between EVPs and similar Online Video Platforms (OVP) like YouTube or TikTok, which are oriented toward consumers or B2C. But it's not the only reason that EVPs are a superior choice for companies.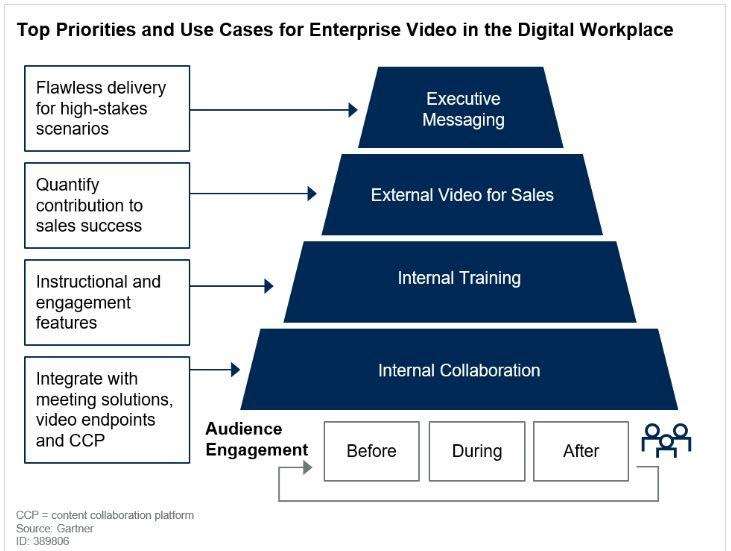 Why Businesses Use Enterprise Video Platforms
There are several advantages for businesses to use an EVP over an OVP. Online video platforms are not designed to solve specific business problems or to meet an organization's business requirements. Content posted on OVPs is subject to rights issues and potential blocking by software, networks, or foreign countries. OVPs lack comprehensive security features and technical support, and are not designed for collaboration.
The inability to access, sort, or manage valuable videos is one of the most concerning collaboration issues for businesses. This problem is solved with an enterprise video platform that provides centralized, secure video asset management. EVPs increase the effectiveness, scalability, and security of enterprise video. They give an organization the tools they need to design a seamless, customized buyer experience that increases engagement, creates a full pipeline, and shortens deal cycles.
Users can also access a variety of video use cases, such as e-learning video, employee training, company meetings, video walkthroughs, and more. These, in turn, have the potential to greatly improve corporate activities and results across the enterprise.
One of the main selling points of EVPs is live streaming, which has become a significant part of business communication. A survey by Haivision revealed that 55% of businesses use live video for in-workplace broadcasts, while 29% stream live video daily. Having its own secure, controllable platform for streaming critical business information to offices worldwide is a significant advantage for an enterprise instead of relying on a consumer OVP.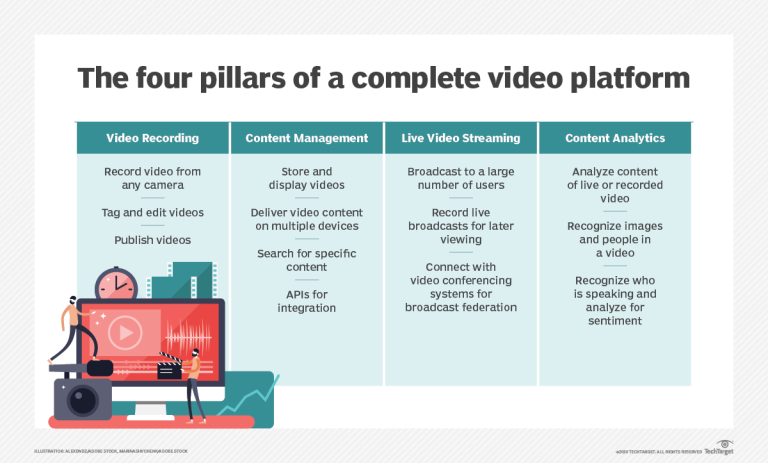 How to Choose an Enterprise Video Platform
When choosing a high-end EVP, the following features should be sought out:
Analytics –

Comprehensive analysis of performance by monitoring video and engagement data via analytics dashboards

APIs and SDKs –

Create custom video integrations with existing business software and apps.

Branding Options –

White-label service includes a customizable player, and adding the user's company branding to video content.

Content Delivery Network (CDM) –

Multi-CDN with reduced latency and buffering, allowing upscaling of high-quality live streaming

Content Management –

An easily searchable video library where videos can be viewed on any device; real-time transcription and translation functionality

End-to-end Functionality –

A single solution to address all required use cases; flexible and can evolve with changing business needs and growth 

Live Streaming –

Secure broadcasting to many users at multiple locations, simulcasting, live stream recording, and company video conferencing system connectivity

Monetization Features –

Supports ad-supported (AVOD), subscription-based (SVOD), and pay-per-view (TVOD) monetization models

Security –

Data security features including dynamic watermarking, encrypted video streaming, IP restrictions, multi-user management, video DRM

Storage –

Onsite or cloud video storage library

Video Recording –

The ability to record pro-quality video on any camera, edit and publish it; add music and effects, branding, graphics, and tags.
Be sure the EVP you choose meets your organizational needs while leaving room to evolve with future growth. With these qualifications in mind, here are the best eight EVPs on the market today.
Top 8 Enterprise Video Platforms for 2022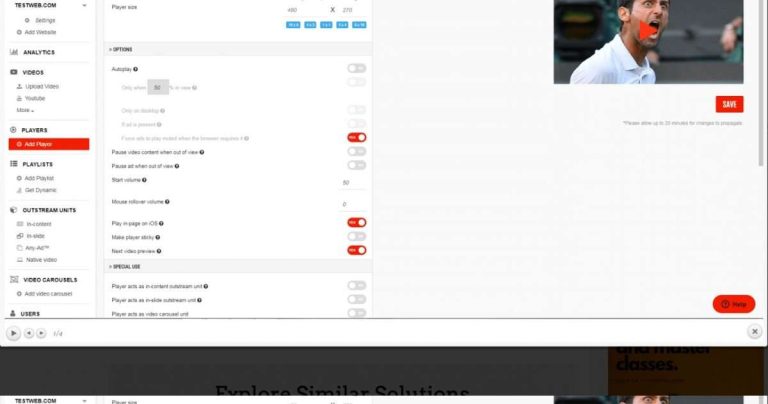 BridTV is an EVP focused squarely on ad revenue by monetizing content through video advertising. The platform boasts a lightweight HTML5 player along with many features aimed at producing ads employing the latest technology, including VAST & VPAID ad tags, waterfalling, and Google IMA SDK integration.
Pros:
Built-in video header bidding support

Real-time ad analytics suite

Complete publishing infrastructure: CDN, encoding, and hosting


Cons:
Doesn't support SVOD and TVOD monetization

Advanced ad features are mostly available only on the Premium plan

The best plan for enterprises is Premium


Pricing: Four plans charged per user: a one-time free trial, Essentials at $25/month, Business at $89/month, and Premium with custom pricing
Reviewer Says: "While it works great as a video player/platform, the downside is poorly managed live streaming."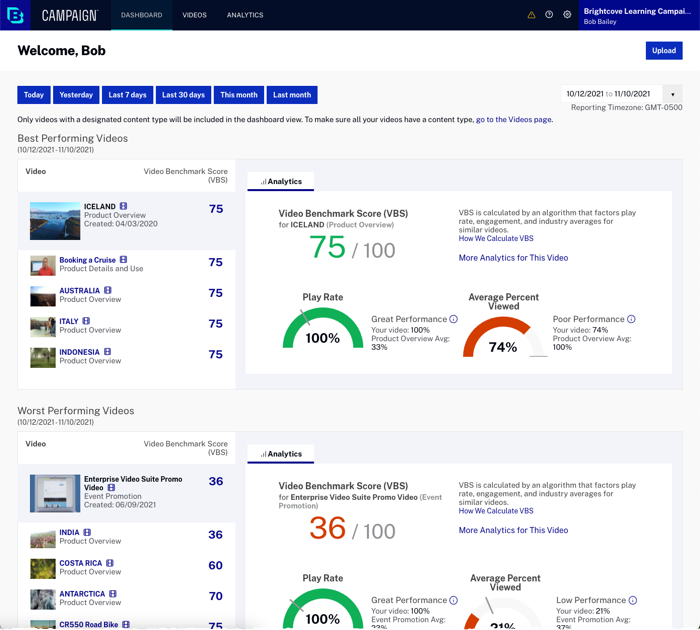 Brightcove is an industry-leading EVP that offers corporate communications, enterprise video hosting, live HD streaming, marketing-focused integrations, and many more services. It's been commended for its immediate usability, but it can also be customized. The platform supports all monetization models and is even optimized for mobile.
Pros:
Versatile platform with everything needed

Excellent tools for audience engagement

Easy to create playlists and upload/edit videos


Cons:
Few automation tools

Not the best platform for sales enablement

Pricing is not transparent


Pricing: By inquiry
Reviewer Says: "Very great for public facing videos out of the box, more difficult (but not impossible) for single sign-on and private/intranet videos."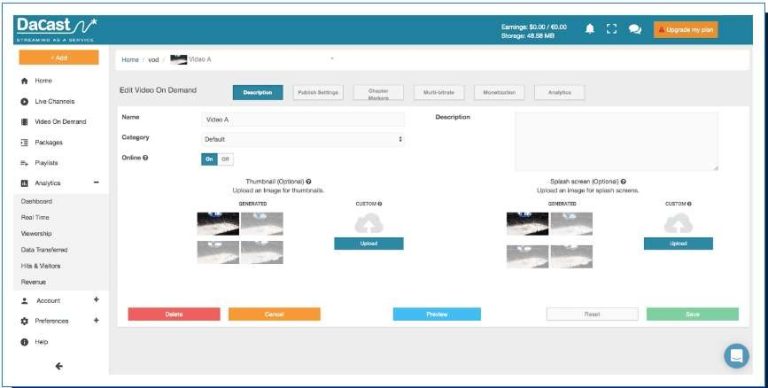 Dacast's EVP is best known for being one of the few American video platforms accessible in China. Users can enjoy cloud transcoding, lag-free adaptive bitrate streaming, private video hosting, and a variety of live stream monetization services on this white-label platform and streaming solution. It's considered an upcoming EVP that is improving over time.
Pros:
Global CDN

High-quality live streaming

Easy to learn and start using right away


Cons:
Difficulty in managing multiple channels

Cheaper plans have less storage

Analytics are frequently not accurate and confusing


Pricing: Three main tiers, ranging from a $39/month Starter plan to a $188/month Scale plan, with a Custom level for high-volume needs. There's also a 14-day free trial.
Reviewer Says: "Dacast video streaming service is accessible from China, so we choose Dacast over the other more well-known and proven competitors."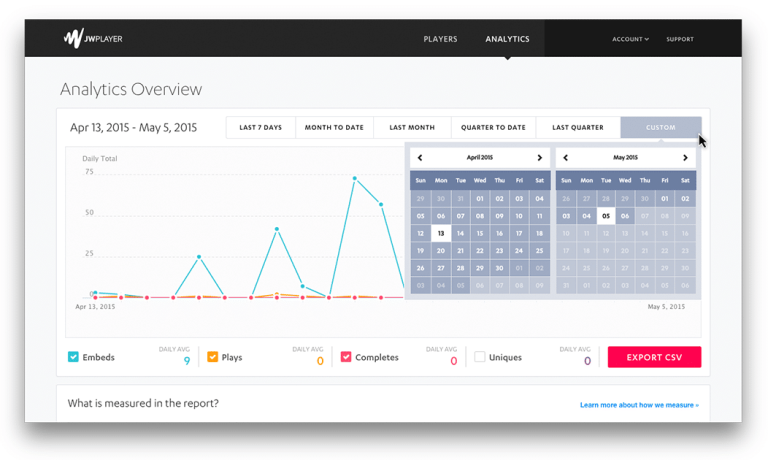 JW Player is an industry pioneer that has grown from a simple video player to a full-fledged EVP offering content management, live streaming, video hosting, and engagement features. A complete video platform for any number of enterprise use cases, it boasts AI content matching, OTT support, and adaptive streaming that allows fluid playback across any bandwidth scenario or device.
Pros:
Live Channels that allow fast broadcasting and monetization of live streams

Intuitive UX

Hosting and content delivery flexible, with low costs


Cons:
Customer support issues reported

One year advance payment required, minimum

Analytics are somewhat cumbersome and not user-friendly


Pricing: Custom pricing by inquiry and limited feature 30-day free trial
Reviewer Says: "We spent a lot of time looking for an affordable, reliable video hosting system, and JW stood out in a crowded field."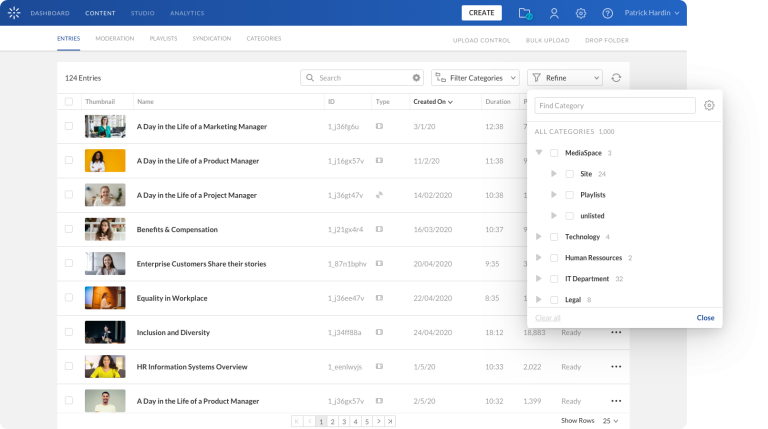 Kaltura's EVP platform is a highly versatile unicorn in the marketplace. It offers a variety of services for different types of broadcasters and uses, particularly for ecommerce brands, e-learning, and governments. Unlike other solutions, Kaltura is open-source and boasts a large user community that crafts custom integrations and plugins. Outside of these quirks, it's a popular platform with most features an enterprise needs for video content management.
Pros:
E-learning and virtual classroom features are state-of-the-art

Intuitive video library management

Allows for simultaneous screen recording and presentations


Cons:
It does not have built-in monetization but can be customized to have it

No built-in hosting

Customer service is not real-time and has been poorly reviewed


Pricing: Many plans at different price points are available depending on which of nine use cases are applicable, and many have a free trial.
Reviewer Says: "The workflow around the various platform products is very mature and well integrated."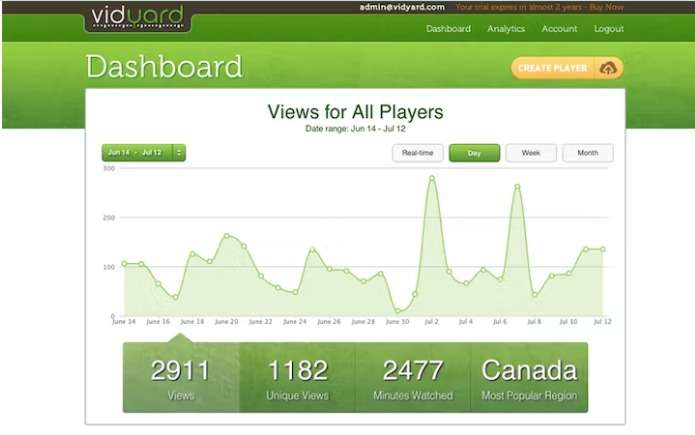 Vidyard's EVP was created with marketers in mind. The platform is equipped with all the tools and information required to increase audience engagement, drive prospects through the sales process, and assess the true ROI of videos. It makes it simple to create and distribute personalized videos at every point of the sales cycle, from prospecting to proposals. Vidyard easily integrates with commonly used sales and marketing tools such as Salesforce, Marketo, and Pardot.

Pros:
Excellent analytics and flexible reporting

Includes email, personalization, and SEO tools

Broadcasting features are pro-quality and comprehensive


Cons:
The backend editing portal is complicated

UX is not always intuitive and can be clunky

No option to make videos private


Pricing: Three tiers: a limited Free plan, a Pro plan at $29/month, or a Business plan by inquiry
Reviewer Says: "Incredible integrations and ability to drive engagement with outbound sales enablement campaigns."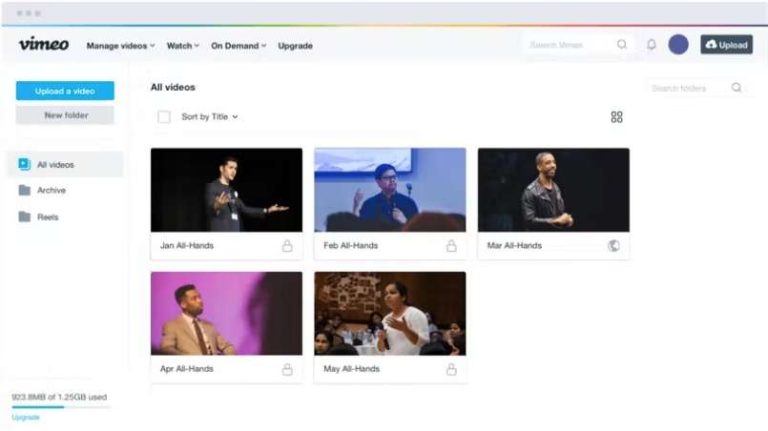 While many are familiar with Vimeo's ubiquitous OVP, the company also offers a suite of enterprise video services. Vimeo Enterprise is a powerful video management platform that facilitates live streaming and interactive video events. Key features include automated Zoom uploads, expansive cloud storage, broad privacy controls, marketing tools, and monetization options.
Pros:
A massive global user base allows for an extensive reach

Numerous useful 3rd party integrations

Very high-quality video resolution


Cons:
Server-level connectivity can be unreliable, with longer buffering times

Some services are priced separately, and many undisclosed fees

Archived events only have basic editing features


Pricing: Four tiers, priced per seat/per month: Starter at $9, Standard at $25, and Pro at $65. A customized Enterprise plan is available by inquiry. 
Reviewer Says: "Vimeo makes it easy to upload and edit your videos. You can also upload in high quality, and Vimeo always delivers with retaining the quality during streaming."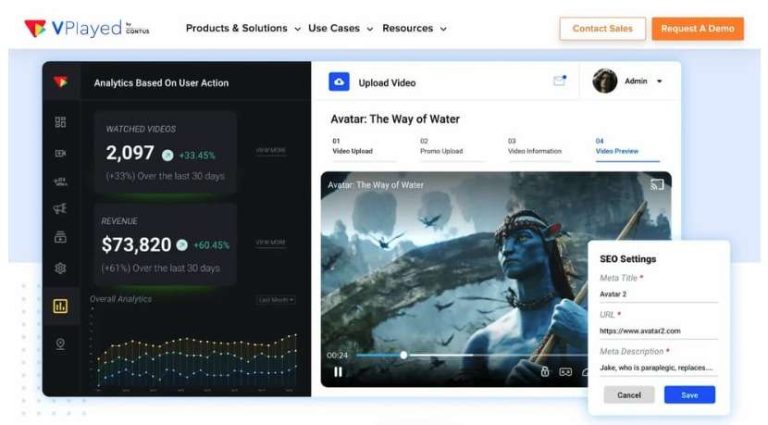 VPlayed provides enterprises with an online media platform that gives users total control over the distribution, marketing, and broadcasting of video or audio projects. The EVP boasts adaptive streaming, multiple media formats, unlimited storage, a content partner site, and secure access control, among its many features. It has advanced tech to deliver content on live streaming, video on demand, and OTT channels.
Pros:
Secure and scalable

Includes built-in social distribution and marketing features

Supports comprehensive monetization models
Cons:
No free trial offered

The analytics dashboard could use personalized metrics and further enhancements

Tracking for live and on-demand users may be inaccurate


Pricing: By inquiry. 
Reviewer Says: "Overall, VPlayed works fantastic and is very helpful for enterprises to generate revenue out of their video assets through multiple monetization models."
Create Compelling EVP Content with Hour One
Enterprise video platforms are an ideal solution for large organizations that need to manage and distribute a lot of video content through different channels and for various use cases. As an end-to-end video content management system, they simplify what can be an overly complex web of video streams, e-learning seminars, social media reels, and more. What still isn't simple for most enterprises is creating all that content in the first place. That's where Hour One's AI video generator comes in.
Hour One is a powerful and affordable solution that employs the latest in AI tech to quickly create virtual presenter-led videos for any use case at scale. Simply choose a template and layout, select a character and voice, enter text from a document or article, and press a button. Almost instantly, you have a sharable video that you can use to explain anything or train anyone. Combining an enterprise video platform with an AI video generator creates an unstoppable, high-ROI video marketing and communication machine that's tough to beat. 
Try creating your first Reals video today for free to see how an AI video generator will help grow your enterprise.
Enterprise-level organizations now use video for marketing, training, internal communication, social media, and more. Enterprise video platforms are video content management systems that offer a single, end-to-end solution for delivering video experiences over large networks to any device. EVPs are designed to assist businesses in managing, hosting, storing, and distributing videos. We've surveyed the top eight solutions in this post. Combining an EVP with an AI video generator such as Reals by Hour One is a high-ROI solution.