Top 10 Video CMS Platforms
It's the best way to meet your clients face-to-face, even when they're on the other side of the world. It enables you to learn and study without ever setting foot in a classroom. And it gives you a platform to simultaneously speak to hundreds or even thousands of your employees. Yes, we're talking about video.
86% of companies say that video content is a major marketing tool. Businesses increasingly use video for internal communications, too. 80% of the most efficient organizations use video to capture and share effective practices internally. Even HR departments are catching on, as 26% create videos to train staff.
As businesses continue to use video for HR, learning and development, marketing, and more, the amount of content they create and stream will skyrocket. The big question is, how can you manage, store, and distribute all these videos without overwhelming your business and audience? The answer is to use a best-in-class video content management system (CMS).
Let's look at what a video CMS is, how it can help you manage your videos, and which top 10 platforms you should consider using.
What is a video CMS platform?
A video content management system (CMS) is a centralized software application where you can store and organize your video content. Keeping all your videos on a device would take up a lot of storage. Instead, you can upload them to a video CMS and use the built-in tagging and organization features to file your content ready for posting. Think of it as decluttering your content creation desk.
Video CMS enables streamlined integration features to distribute your content directly from the platform. It's also got you covered on the data front. Most good video CMS platforms use AI to generate advanced content analytics, so you can easily see your content's performance without reverting to separate analytics software. If you're a marketing, HR, or sales professional, a video CMS gives you the necessary visibility to manage all your content in one place.
What are the benefits of video CMS platforms?
Think of a video CMS platform as your one-stop shop for all things video-related. Here's why it's so beneficial for your business.
Better Organization
Video CMS platforms use metadata and data ingestion to index and catalog your videos, which are easily searchable using tags, keywords, and other discoverability features. If you're an estate agent and use video content to sell homes, a video CMS ensures that you send the right video to the right client at the right time.
Advanced Analytics Insights
Tracking key metrics is a great way to see if your videos are performing well and generating ROI. Many video CMS platforms have built-in AI tools that provide detailed insights into monetization, engagement, drop-off rates, and more.
Automation
Video CMS helps take the pressure off your creative teams and improve team efficiency by automating content management tasks like video generation and measurement.
Integration With Multiple Channels
Thanks to the integration features of video CMS, you can take a multichannel approach and easily post directly from the platform.
Personalization at Scale
97% of marketers have seen a rise in business outcomes due to personalization. CMS platforms provide the storage capacity to personalize content at scale, so you can make as many videos as you like. This feature is handy if you create employee training or E-learning videos.
How to Choose the Right Video CMS Platform
You can easily choose the right video CMS platform by considering your content management goals. If you need advanced analytics, you might choose a solution with built-in AI tools to help you improve user experience, make data-driven decisions, and automatically generate content for specific audiences.
However, if your marketing team needs a helping hand with creation and design, you could choose a platform that offers clip extraction and editing features. Alternatively, your business might host many live online events like webinars. In this case, you'll likely need a platform that supports live streaming with low latency, lets you add live assets to your library, and automatically creates video-on-demand (VOD) assets from the live streams.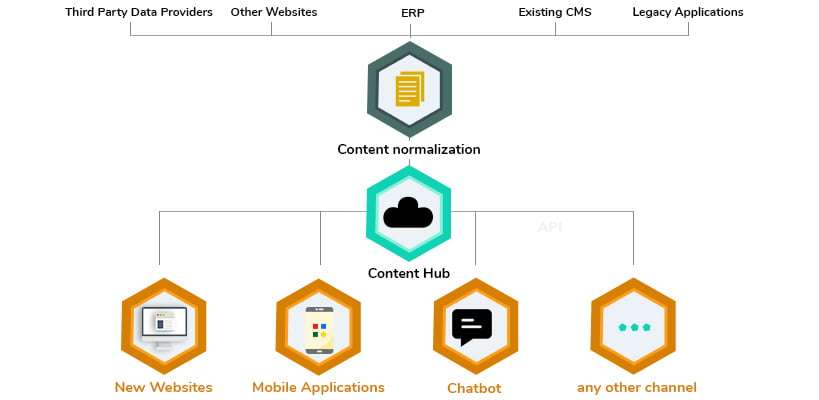 No matter what your content management goals are, there are a few commonalities that you should look for in a great video CMS platform. The best options combine metadata-backed cataloging features with smart integration options to help you manage your content end-to-end, from design to scheduling and publication.
Top 10 Video CMS Platforms
Brightcove is a highly versatile platform offering everything sales, marketing, and business operations teams need from their video CMS of choice. Its leading features include audience engagement and monetization tools, which help businesses maximize live HD streaming and enterprise video hosting opportunities.
Pros:
Wide range of marketing-focused integrations
Optimized for mobile
Excellent streaming capabilities
Cons:
Unclear pricing structure
Outdated user interface
Pricing: By inquiry.
Reviewer says: "The UI's in some of the admin interfaces are not as clean as they could be, but I've seen continual improvement over time."
HubSpot's offering, CMS Hub, provides advanced attribution reporting to help you see exactly how well your video content is performing across multiple channels. With the adaptive testing feature, you can also test different video content iterations against each other to monitor what performs best.
Pros:
Great starting price
Easy-to-use platform is suitable for various levels of technical ability
Can tailor content to regions and other segments
Cons: 
Limited customization options
Admin permission is required frequently, which slows down workflows
No video uploader feature
Pricing: Starting at $25 per month and rising to $1,200 per month for Enterprise customers.
Reviewer says: "I love being able to use the tracking features to communicate ROI and measure the effectiveness of campaigns."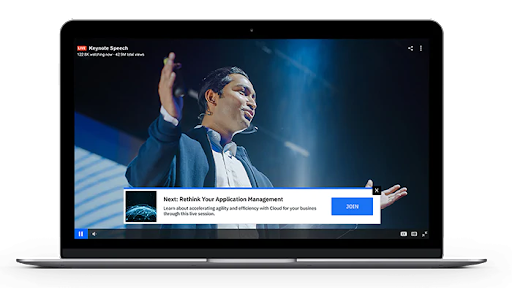 IBM Watson Media is a cloud-based streaming video platform and hosting services provider. It simplifies live broadcasts and on-demand events so you can communicate directly to internal and external audiences. Watson Media offers multiple engagement features, such as live chat and Q&A, live playlists with looping, and broadcast recording.
Pros:
Highly scalable (it streams over 2 million live events every month)
Advanced machine learning capabilities
HD live broadcasting
Cons:
The mobile interface isn't user friendly
Poor subscription renewal experience
Occasionally loses internet connection
Pricing: 30-day free trial, then it's by inquiry.
Reviewer says: "The streaming platform is easy to navigate from the back end. It does not take extensive training for someone to step in as a video live stream producer. However, the video editor could be significantly improved."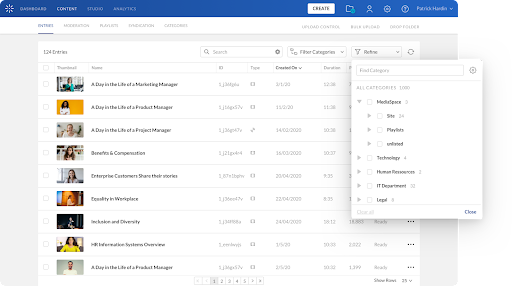 Kaltura is geared towards e-commerce brands, e-learning, and governments. It's an all-in-one video content management platform that lets you record live sessions, easily upload recordings, and produce high-quality videos. Because it's open-source, you can find a large Kaltura community online for support, especially as customer service is lacking.
Pros:
Simultaneous screen recording and presentations
Handy how-to tutorials
Automated captioning
Cons:
Slow customer service
Clunky search functionality
Lack of documentation for developers and IT teams
Pricing: Multiple price points by inquiry, and includes a free trial with most packages.
Reviewer says: "Very flexible product with great integration features into the LMS."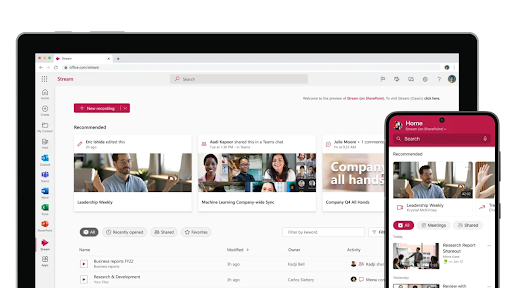 Microsoft Stream is a video management solution that enables live streaming and VOD for events, training purposes, and team meetings. Thanks to the cloud-based storage, you can access your recordings anytime, anywhere, and manage your videos as you would your documents.
Pros:
Personalize screen recordings with text, drawings, and effects
Streamlined integration with MS Office
Create playlists to organize videos
Cons:
Access privileges need to be set individually and can't be set in batches
Limited video editing options
Access management limits sharing options outside the organization
Pricing: There are multiple pricing plans to suit your needs. The low-level Enterprise option starts at $12 per user per month, and at the end of the tier system is the E5 option, which is $38 per user per month.
Reviewer says: "Microsoft Stream immediately allows you to upload videos, document and categorize them, and share them with your team members in the enterprise."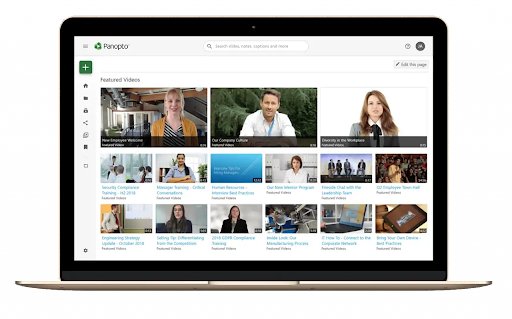 Panopto is an end-to-end video CMS platform that lets you capture video from multiple cameras, broadcast live or securely share it, and measure metrics to observe user behavior. It's ideal for e-learning, HR, and training purposes, especially lecture capture and virtual classroom setups.
Pros:
Integrates with popular platforms Zoom, Teams, and Webex
Allows you to sync audio clips to PowerPoint slides
An advanced keyword search feature
Cons:
The automatic caption generator is not entirely accurate
Video editing features are slightly clunky
Basic UI
Pricing: The pricing is unclear, and you'll need to request a demo first. It also has an extra fee for storage beyond 50 hours.
Reviewer says: "Panopto is a very simple but functionally great software for recording live streams."
With over 70+ app integration options, VIDIZMO's video CMS platform helps you distribute content via one central platform. It offers multiple access management options for advanced security, so it's a great choice for government, legal, and healthcare verticals that need to stream videos externally or internally.
Pros:
Simple implementation
Fast customer service support
High level of security with authentication features
Cons:
Limited customization options
Limited third-party integration options
No peer-to-peer community for support
Pricing: Request a quote and choose from their Commercial or Government packages.
Reviewer says: "Hit all of our requirements immediately, and gave additional options we were looking for."
VPlayed is a versatile online media platform that helps you take video streaming to the next level. With features including adaptive streaming and unlimited storage, you'll have total control over your content creation, marketing, and distribution. It has built-in monetization models to help you maximize revenue from live streaming and VOD content.
Pros:
Extensive customization options
End-to-end video encryption for enhanced security
Wide range of integration options with popular social media platforms
Cons:
No free trial is available
Lack of personalized metrics
Lots of false reviews online, which could affect your decision-making

Pricing: By inquiry.
Reviewer says: "The centralized dashboard makes it easy to manage and stream."
With Wistia, you can create, market, and analyze your videos in its simple-to-use platform. It has screen-recording capabilities to grab a video and export it to Wistia to edit and share. Whether you need to optimize your video for mobile, 4K, or other, you can embed content into your website directly from the platform.
Pros:
Insightful analytics
Enables beneficial SEO when embedded on your website
Connect social media accounts for quick sharing
Cons:
Limited video editing functionalities
Few customization options
Inaccurate transcription solution
Pricing: It's free for up to ten videos and one user. Then, Wistia uses a tiered system that rises from $19 per month for twenty videos to $319 per month for 250 videos.
Reviewer says: "Wistia is easy to use, self-explanatory tool. It helps me upload my videos and share them in different formats and is SEO friendly!"
Zype's cloud-based video CMS platform helps you maximize monetization opportunities for live, on-demand, and other video content. It supports paywalls that enable you to provide a compliant and secure way to sell your content. It also offers over 28 valuable integrations.
Pros:
Numerous personalization options
Integrates to a wide range of popular third-party apps, including Roku and Apple TV
Responsive and friendly customer service
Cons:
High price point
Analytics are not flexible to user's needs
No user support forum or community
Pricing: There are no prices listed on their website, but you can see what each tiered option includes.
Reviewer says: "I like how user-friendly Zype is, I was able to learn how to use the interface very quickly and it's very easy to navigate and make changes to our channels."
Hour One: Create All Your Videos in One Place

A video CMS platform is an efficient tool for managing all your video content. Thanks to the built-in organization, integration, and analytics features that most video CMS offer, you'll gain visibility over your video content's status, scheduling, and performance in a centralized hub. Two-thirds of video marketers say they plan to increase or maintain spending in this area, proving that video content is here to stay. As creative teams and organizations of all sizes develop more videos and experiment with more distribution channels, a video CMS has become essential for managing all your video assets.
Of course, before uploading your videos to a CMS, you must make them first. An AI video generator like Reals by Hour One is the ideal solution for creating quick, high-quality video content you can upload to your video CMS platform. Choose your template, select a virtual presenter, and add your text–with the press of a button, you'll have a professional quality, virtual presenter-led video that you can re-create, personalize, and distribute at scale.
Creating video content doesn't need to be time-consuming and expensive. By pairing an AI video generator like Hour One with a video CMS platform, you're letting the technology do the hard work for you and maximizing your ROI.
Try Reals for free today to see why our video creation platform is all you need for successful video marketing.
Video content is growing and is the basis of your future marketing and communication strategies. But how can you gain visibility over video content creation, scheduling, and distribution? Many businesses use video content marketing systems to store their videos in one central hub. We've reviewed the top ten best video CMS solutions on the market. Take a look to see why a best-in-class video CMS platform perfectly pairs with Reals by Hour One to create an efficient, high-ROI video strategy.