To operate regularly, a business needs resources. These resources are often financial, technological, and logistical. Each is crucial in ensuring that any company runs effectively. But there is a specific kind of resource that makes a major contribution to the growth and success of any company: Manpower resources.
Why Employee Training Matters
Employee training programs do more than improve the employee experience. They also have a direct effect on your company's output because they help your team members deliver more efficiently and effectively. That is why it is crucial to ensure they are equipped with as many skills and resources as possible. One way to ensure that is to take your employee training program to the next level by integrating the technology of artificial intelligence (AI).
There has been a rush among service providers to highlight how AI is incorporated into their products and offerings, and how it can help businesses achieve corporate objectives. In 2021, global spending on artificial intelligence grew to $55 billion in the business sector.
Artificial intelligence makes it possible to take in large amounts of labeled training data, analyze it for correlations and patterns, and then use these patterns to automate some business operations, such as employee training programs.
Artificial Intelligence in Employee Training
Artificial intelligence in corporate learning has countless applications, and someone might even say that companies are barely scratching the surface. Some companies have even started the application of artificial intelligence in eLearning to create a seamless hiring and onboarding process using e-learning videos.
Using AI for employee training may be a new strategy in the workplace, but not because the recent technological advances have opened the door for industry integration. Artificial intelligence in training and development has proven to be one of the key innovations in the modern workplace.
Before you look for a software provider AI in employee training, it is better to look at its basic features and functions, which are automation.
What You Can Automate in Employee Training
Automation is a powerful process that can bring your employee training and development to the next level. It allows your HR department to be more productive and focus on tasks that have a meaningful effect on the manpower of your business.
Progress Tracking and Analytics
Using artificial intelligence in training and development allows you to automatically view and have access to the progress reports of your workforce. When you have a ready report for progress tracking and analysis, you can properly assess and recommend your staff. A task that takes days to be accomplished can now be done in just a matter of hours with the help of automation.
Also, when you integrate AI into employee training, you will have a better set of metrics and standards to clearly identify which areas you need to help your staff grow. This allows you to see which staff members can handle more and who needs more assistance to perform well.
Certificate Creation
Certificates are not just a piece of paper or an act of formality for completing the training. For employees, it is a physical act of commendation for the efforts they give. A certificate represents a much more meaningful value to workers. This is enough motivation to make sure that certificates are given to the employees who attended specific training.
With automation, you can make sure that certificates are given promptly and properly. For a small company, producing certificates may be a small task, but for bigger companies, it would take more time for them to accomplish it. That's another good reason why automating certification creation is important.
Training Recommendations
One of the most time-consuming and labor-intensive business processes is still HR management. The time-consuming nature of traditional HR management techniques prevents managers from concentrating on more crucial issues. But when HR software was developed, these things were a thing of the past. This is a picture of how automation can help in giving training recommendations.
These HR tools, created to automate all HR processes, entered businesses' toolkits and have caused tremendous growth to various businesses in different industries. Some companies have opted to use Oracle PeopleSoft alternatives to bring their employee training to the next level.
Training Update Communications
Communication is vital for any organization, regardless of its shape and size. It has a significant contribution to the overall operation of any company. There are many uses of communications software, and companies must always be on the lookout for the next best thing in terms of corporate communications, not for the sake of just being part of the trend but for the sake of growth and development.
Automating your corporate communication would greatly help in creating a smooth, seamless, and synchronized message to all who are part of your company. When you automate your communication process, there is little to no chance of delivering a confusing or vague message.
Benefits of Using Artificial Intelligence for Employee Training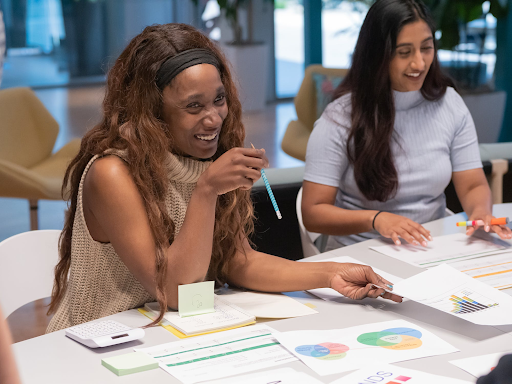 Here are some clear benefits to using artificial intelligence for employee training:
Saves Time Spent on Manual Tasks
Manual tasks are not menial tasks, but sometimes too many manual tasks take more time than we can afford spending. Instead of reserving time for more important tasks, employees tend to gravitate towards lesser important tasks since too many manual tasks demand more time and effort. The use of AI in employee training lets your company focus on high-impact tasks, and are more engaging for your staff.
Lowers Expenses
Employee training entails costs, and it is a price business owners must be willing to pay to succeed. However, it doesn't mean companies should just splurge on employee training, since there are other equally worthwhile investments businesses can undertake.
Artificial intelligence in training and development lowers costs. Instead of hiring a third-party group to facilitate employee training, your HR department can just opt to use artificial intelligence in eLearning so that there will be no need for a third party instead, just have an ad hoc committee to do the training.
Improves Training Completion Rates
Most employee training is done during work hours, so participants are still working during this period, a factor that adds to the low rate of training completion. But with AI technology, there is a better chance for employees to complete training because everything has been laid out already, and participants just need to go through the program.
Using artificial intelligence in training and development also reinforces regularity and consistency, which adds to the higher probability of completing training.
Enhances the Learning Experience
Using artificial intelligence in eLearning guarantees an increase in the positive experience of employees.  Employee training is not like academic lectures or seminars because they are contextualized and compact, a reason why artificial intelligence in corporate learning is highly recommended. AI in employee training enhances learning experiences by making them more straightforward and engaging.
Provides Real-time Data and Analytics
When a company integrates artificial intelligence in training and development, it gets access to useful data, helpful for decision-making and improving the existing employee program. It is also helpful in assessing the current condition of your workforce because it instantly provides data.
Artificial Intelligence and the Future of Human Resources
Today, the global CAGR of artificial intelligence is close to 40%. All across practices, AI is becoming the norm, and HR is no exception. Integrating artificial intelligence software and employee training is just one of the many innovations in modern HR practices and technology.
A company's workforce is vital to its growth, and if any business leader wants to take their organization to the next level, it is important to know how to leverage Artificial Intelligence and use it to empower employees.