When YouTube launched in 2005, video first became a part of content marketing strategies – and has grown in prominence each year since. Now, in 2023, video is the undisputed king of online content. It makes up 82% of all online traffic, and nearly eight out of ten consumers watch online videos weekly. Marketers are very much a part of this lovefest, with 81% reporting that video content has directly increased their sales volume.
To partake of the benefits video marketing offers, you need a strategy built around fresh, relevant, and engaging content. One of marketers' biggest obstacles is that most good strategies presume you'll be able to consistently generate a wide range of timely content. But traditional video production methods take time, labor, often hefty production budgets, and significant labor.
Fortunately, the traditional production methods are no longer the only way to make great videos. Video generators powered by artificial intelligence can produce customized, professional-quality video content at a fraction of the time and cost – often with nothing more than a script or slide presentation as a starting point. Best of all, the latest AI video generators can deliver your message through animated, photorealistic characters that are virtually indistinguishable from live human performers.
In this post, we'll learn more about AI video generators, why you should consider using one, and survey the seven top AI video generators for 2023.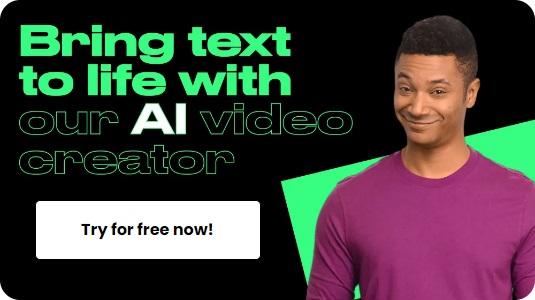 What is an AI video generator?
AI video generators are sophisticated yet easy-to-use, end-to-end video production software solutions powered by artificial intelligence. AI video generators take a piece of textual content, like a blog post, and use their AI engine to figure out how to structure and deliver that content in video format.
The AI does this by "knowing" what qualities a good internet marketing video should have, such as brevity, positivity, clear visuals, and storytelling. It combines the text with this information and other media that it pulls in, usually from its own content library, to create a polished, finished product. This media includes background images, stock footage, charts and infographics, music, voices, and even ai spokespersons.
The entire production is assembled and completed within the confines of the AI video generator software package. There's no need to buy cameras and equipment, rent a studio, hire actors, or engage in any of the other laborious and costly activities associated with live video shoots.
Why should Marketers use an AI Video Generator?
The short answer: it's what your buyers want. According to HubSpot, 54% of consumers genuinely want to see more video content from the companies they're interested in buying from. Video is also perfect for sharing on social media, where most people consume their internet content these days. But marketers already know how well video works. The issue is that producing quality video content at scale is a massive challenge, and AI video generators are the perfect solution for that.
AI video generators can create thousands of customized videos in the time it takes to shoot and edit a single traditional video – and at a much lower cost, equaling better ROI. Taking the grind of production work off the table frees marketers to focus on their video content's more interesting and creative aspects. The result is a streamlined, efficient, and affordable video production pipeline that allows for true personalization and fast, responsive turnaround times. In other words, AI video generators are an incredibly powerful tool for leveling up your video marketing strategy.
Here are a 3 few other use cases well-suited to AI-generated video:
Education – Text-only lectures are boring, and recorded lectures take lots of time to produce. AI video is as quick to produce as text-only, but as engaging as an actual lecture.
Human Resources – AI video can be a quick and entertaining way to train and engage with employees in your organization. Using video simplifies processes like new employee onboarding, office tours, and standard office policy briefings.
Languages – It's always easier to learn a new language when you're communicating with a real person – or the next closest thing, a virtual presenter. AI video generators make it simple to set up entire language learning programs quickly and cost-effectively.
Here are seven AI video generator solutions that can help increase your video content marketing and production ROI for 2023.
Top 7 AI Video Generators for 2023
1. Hour One
What's the best way to keep AI-generated video content from feeling dry or impersonal? Get a friendly face to present and deliver it. AI presenters can provide a human touchpoint without the time and overhead that goes into filming real live actors. Hour One's platform includes more than a hundred diverse hypereal presenters who can speak in various voices and languages, with the option to add your own.
Pros & Cons: Hour One can generate thousands of hours of custom video content efficiently and at scale with no coding or video production skills. For companies looking to level up from AI video generators that can't muster more than text graphics and bouncy music, Hour One is a robust and affordable solution that generates high-quality video while keeping the process simple.
Reviewer Says: "We were looking for a more efficient and flexible way to produce content at scale, without losing the life-like qualities of a real human subject. After exploring various options, we found Hour One to be the ideal solution for our needs, being the only technology that could accurately replicate the natural human experience."
Pricing: By inquiry. There's a free trial and tiered pricing, including an enterprise solution, so customers can find a package that fits their needs.
2. Raw Shorts
If you're looking to convert a blog post into a shareable video, Raw Shorts has you covered. Once fed a source article, it will draft a storyboard, automatically add in supporting media like background images and music, and generate a complete video that can be edited and customized as needed.
Pros & Cons: Raw Shorts provides quick text-to-video conversions, but the finished products can be a little light on professional features. There's no option for animated AI presenters, and creating a polished final cut may require additional tools.
Reviewer Says: "The videos are cute, but they aren't the type of video that will actually get any views on YouTube."
Pricing: The Essential plan is $39 per month and the full-featured Business plan is $59. There's also a free trial version.
3. GliaCloud
News sites, internet marketers, and any other business that needs to produce timely video content regularly will appreciate GliaCloud's solution. It takes raw text content and matches it with media assets to create informative videos to post and share. Features include transition effects, automatic or recorded voiceovers, cloud-based editing tools, and customization options, so each video conveys your brand's correct look and feel.

Pros & Cons: GliaCloud includes natural language processing for English as well as Chinese, Japanese, Korean, and other East Asian languages. On the downside, animated presenters aren't currently available.
Reviewer Says: "The startup provides a robust platform for publications that do not have access to a video production team or department."
Pricing: $300 per month for the Pro plan, $550 for the Business plan, custom pricing for Enterprise solutions.
4. Lumen5
Lumen5 combines a user-friendly drag-and-drop interface with a content and template library to enhance its AI-powered video content creation platform. It's built to support marketing, brand awareness, and thought leadership campaigns for businesses up to enterprise-scale.
Pros & Cons: While Lumen5 can certainly produce professional-looking videos in relatively short order, it doesn't have many options of presentation or voiceovers, making it best-suited for impersonal videos that don't require much human touch.
Reviewer Says: "I wish I could control the layout a bit more and add in different types of transitions, but the more I use it, the more familiar I am with how to tweak it."
Pricing: There's a free Community plan, and paid plans run from $11 to $149 per month if paid on a yearly basis. They offer custom Enterprise pricing.
5. Rephrase.AI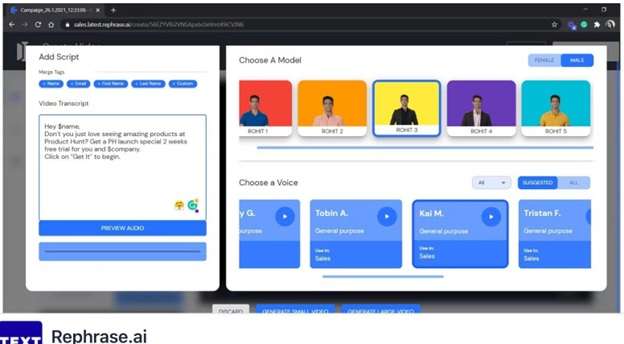 This AI video creator strongly emphasizes personalization, especially in a sales and promotional context. They include a choice of various human actors for their AI presenters. You can also generate videos using human presenters of your choosing, like yourself or your team members. To prevent misuse of this feature, Rephrase.AI includes security features that limit who can view and generate videos with custom presenters.
Pros & Cons: The learning curve can be steeper than other tools, and Rephrase.ai doesn't have as deep a bench of presenters to choose from.
Reviewer Says: "I look forward to the increasing sophistication of an impressive product and the chance to create one-off custom videos."
Pricing: Starter plan pricing is $25 per month for 10 "credits" equivalent to one minute of video. Pricing for the Enterprise version is by inquiry.
6. Muse.AI
While most of the solutions on this list use AI to create videos using plain text as a starting point, Muse.AI is an all-in-one platform that provides hosting and streaming services in addition to video creation and editing tools. An indexing and searching tool lets you search for specific people, words, actions, or visuals within a video.
Pros & Cons: Muse.AI enables you to set up an ad-free streaming service, and they'll even handle the signups and billing. However, their focus on delivering video (instead of creating it) means you'll probably need additional third-party tools to fully realize your creative vision.
Reviewer Says: "Muse.AI does not have ads or any watermarks on your videos. Customer service chat is quick and helpful."
Pricing: It's $5 per month for the Visionary plan and $20 for the Venture plan, if paid yearly. Inquire for Enterprise-level pricing.
7.InVideo
InVideo is for content creators who want to get more hands-on with their video productions. It has a powerful creation and editing platform with stock media, effects, and a library with more than 5,000 templates. It's all cloud-accessible, allowing you to work on your video production from anywhere.
Pros & Cons: Though packed with resources and easy to use, InVideo draws criticism for its slow rendering times and outdated library content. Its AI engine can convert plain text to video, but they don't offer virtual human presenters.
Reviewer Says: "There is a bit of a learning curve to using their software, and it can be buggy at times. That being said, their support team is phenomenal and very responsive."
Pricing: There's a free plan, but videos include a watermark. Paid plans range from $8 to $15 per month, with discounts if paid annually.
AI Video Generators Create Growth and Increase ROI
Across various categories and demographics, consumers have communicated a clear message: the best way to get through to them is to create a video that they'll actually want to watch. To provide a broad and varied audience with a steady stream of relevant video content, you either need a full-time production studio — or an AI video generator.
An AI video generator is ready and able to produce whatever video content you need at a moment's notice. When inspiration strikes, you can immediately get to work delivering your latest campaign through a compelling, professional video with a lifelike virtual presenter. With this powerful tool in your arsenal, your content marketing strategy can grow without the limitations of traditional video production. Get started with Hour One today and easily create at scale with a much higher ROI than traditional video production.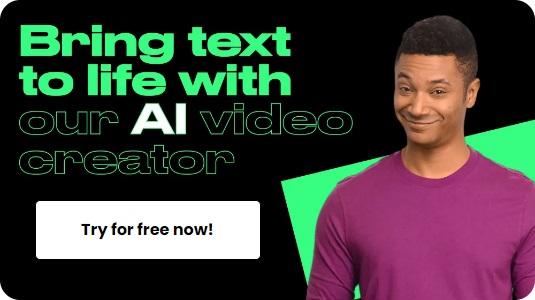 It's a shock when you hire the perfect candidate, the one who aced the interview ticks off every qualification, and when they start working, they just don't cut it. There are many reasons why sudden reversals like this happen, but a new hire often can't perform up to their potential because they didn't get the onboarding they needed.
A great onboarding process helps employees understand the company culture and your expectations for them. It gives them the confidence and initiative that positions them for a successful, rewarding career.
How important is a great onboarding experience? Studies show it can improve a new employee's productivity by as much as 70%. The problem for mid-size and larger companies is that manual onboarding processes are hard to scale.
Fortunately, these issues can be solved by various Human Resources software that includes features designed to create effective onboarding experiences. This post will look at the importance of employee onboarding and seven onboarding software solutions to set your employees up to succeed.